Visiontek GeForce 3 Review
---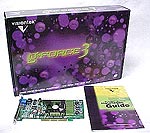 The Visiontek GeForce 3 came with only a small instruction manual. The 12.00 Detonator drivers came from nVidia's website. Cost is roughly $500CDN.

When I was given the opportunity to review the VisionTek GeForce 3, I immediately jumped at the chance. With it's huge reputation preceding it already, I was really looking forward to what I could 'persuade' this little green card to do for me... After all, the lure of playing games on a card with a Graphics Processing Unit (GPU) with over 57 million transistors says a lot!

The Visiontek Geforce 3 card layout is based almost exactly on nvidia's reference design, so the only luxury it comes with is a TV-output. With just about every GeForce 3 based card on the market right now coming sitting on the shelves with price tags of over $500CDN I was honestly quite happy there wasn't any software bundled. The software wouldn't be able to take advantage of the GPU anyway's, it would just inflate the price.
Visiontek GeForce3 Specs
Product Name
VisionTek GeForce3
Chipset
NVIDIA GeForce3
RAMDAC (MHz)
350
Speed of core (MHz)
200
Available bus
AGP
Supported API(s)
Open GL 1.2 + DirectX 8
TwinView Support
No
Amount of RAM (MB)
64
Type of RAM
DDR SDRAM
Speed of RAM (MHz)
460
Speed of RAM (GB/sec)
4.0
Bandwidth
7.36
CRT Resolutions/Maximum Refresh Rates
yes
640x480
240
800x600
240
1024x768
200
1152x864
170
1280x1024
150
1600x1200
100
1920x1440
75
2048x1536
60
TV-Out (Svideo)
yes
TV-Out Max Res. (NTSC)
640X480
TV-Out Max Res. (PAL)
800X600
Cooling:
Stepping back for a moment to the days when the GeForce 2 Ultra was first introduced will bring us to the point when video cards actually needed cooling solutions on their memory. What the GeForce 2 ultra did was represent the first consumer-based video card that genuinely needed ramsinks - yes the Hercules Prophet 2 series had them but that was more of a gimmick.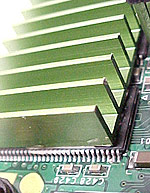 With the GeForce 3, the need is no less there and the same proven cooling solutions is being utilized. However, there do seem to be some big gaps in the thermal interface between the GPU and the BGA cooler.
Going back to the RAM, since I didn't want to risk the chance of damaging the card by removing the factory installed ramsinks to see what make and speed of the memory module was used we'll just have to assume it's similar in speed to the 3.8ns Elite Semicon memory that was on the MSI Starforce 822 Geforce 3 Card.
The two small sections of greenish ramsinks were bonded to the memory by what looks like a grayish thermal adhesive, as you can see by this little bit showing at the corner.