PCstats Test System Specs:
Computer:
AMD Athlon (TBird) 1GHz @ 1.44GHz AXIA-Y (9x160FSB)
Zalman CNPS 5000 Plus (all copper heatsink w/Zalman fan blowing downwards)
512MB PC133 SDRAM Infineon CAS3@160FSB
Iwill KK266-R (RAID on-board)
2x Maxtor DiamondMAX Plus 40GB @ 7200RPM (running RAID 0 as 80GB)
ATI All-In-Wonder Radeon 32MB 4xAGP (185/185 Core/Mem)
Voyetra Turtle Beach Santa Cruz 5.1 PCI
3Com 905C 10/100Mb Fast Ethernet PCI
LG Flatron 915FT Plus 19" .24 dpi (1280x1024@85Hz)
Antec SX-1030 w/Enermax 430Watt P/S

Software:
MS Windows 2000 Pro Service Pack 2
Benchmarks:

Nero CDspeed 99
Nero DVD Speed 99
All the latest software & drivers were installed for this review. The following DVD-ROM drives were used in this review: Samsung SD-616 DVDROM 16x DVD/48xCD, Pioneer DVD-106S DVD-ROM 16x DVD/40x CD, Toshiba SDM-1212 DVD-ROM 6x DVD/32x CD.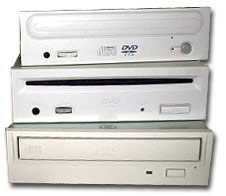 DVD Tests:
DVD Low-Level Tests: In order to gauge the performance of the Samsung SD-616, the benchmarking program Nero DVD Speed 0.52 Beta (a.k.a. DVD Speed 99) was used along with the "Matrix" DVD, to measure the performance of the drives' following attributes: access time, transfer rate and cpu utilization with DVD-Videos.
DVD Playback: Using Cyberlinks PowerDVD version 3 (I didn't use the version that Samsung shipped with their unit), I visually examined playback for the drives smoothness. For the "Matrix" DVD, I watched scene #28 (the "Lobby Shooting Spree") and checked for any pauses, skipping, or jerkiness during the film sequences. Using the "Matrix" DVD, I particularly paid attention to the scene 15 (the "Morpheus vs.Neo matchup"), checking for both a smooth and fluid playback. Each scene was watched at least once with attention paid towards any discrepancies (if any) during the viewing stages.
CD Tests:
Nero CD Speed 0.83 Beta (a.k.a. CD Speed 99) was used to test the DVD drives for its CD data/audio performance.
For the CD Data and Audio tests, I chose the following CD's: Id Softwares' Quake 3 Arena was used for the CD Data tests Brandy: Never Say Never was used for the CD Audio portion of the tests. The average from 3 runs were reported for each of the drives. In order to maintain consistency and achieve reproducible results, the 3 tests were conducted in a single run per drive, with a full system reboot between each testing.