Pioneer DVD106 - Data Tests
Samsung SD-616 - Data Tests
Toshiba SDM1212 - Data Tests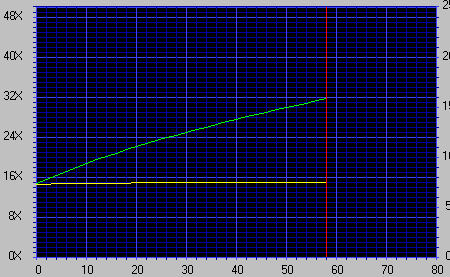 Nero CD Speed 99 - Data Benchmarks
DVD Drive
DVD106
SD-616
SDM1212
Disk Type
Data
Data
Data
Avg Speed
27.76x
31.56x
24.14x
Random Seek Time
94ms
222ms
90ms
1/3 Seek Time
100ms
111ms
103ms
Full Seek Time
174ms
173ms
149ms
DAE Quality
-
-
-
CPU use: 1X
1
0
0
CPU use: 2X
2
1
1
CPU use: 4X
6
2
3
CPU use: 8X
12
5
6
Burst Rate
4MB/s
1MB/s
2MB/s
Disk Eject Time
-
1.24
2.25
Disk Load Time:
-
1.16
10.93
Transfer Rate testing showed that the Samsung was blistering fast in this segment, beating out even the Pioneer unit at a noticeable clip. Seek Access Times showed some surprising results. It proved that the oldest drive in the test, the Toshiba also was the fastest in 2 out of the 3 performed tests.
For the tests in data mode relating to CPU Usage, the Samsung model practically owned this category when it came down to lowest utilization. It did tie with the Toshiba in two of the tests, and beat out the Pioneer unit in all the results in this category. In results similar to the testing during the DVD segment of the Interface Burst Rate, the Pioneer once again had the highest MB/s when compared to its second placed competitor, the Toshiba, followed behind by the disappointing burst rate of the Samsung unit.
During the Spinup/Spindown Time tests, the Toshiba roared ahead of the pack followed by the Pioneer unit and rearing up last is the Samsung. The Disc Eject/Load/Recognition Time had the Samsung drive proving fastest in the ejection and loading segments, with the Pioneer owning the lowest recognition time. (The Toshiba drive scored 0.00 seconds in the recognition time, but I chose the Pioneer unit due to its actual timed measurement since the Toshiba didn't actually register any quantitative score.