Please note that all the DVD-ROMs performed below their advertised maximum " X-speed" ratings. Generally the rated maximum speeds were lower during the benchmark portions of the tests.
Pioneer DVD106 - DVD Tests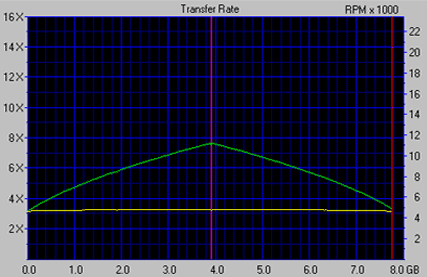 Samsung SD-616 - DVD Tests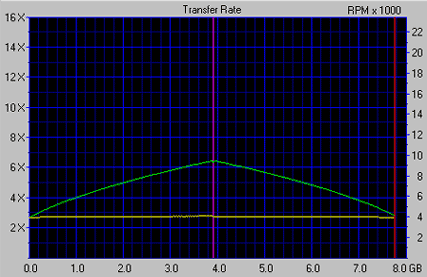 Toshiba SDM1212 - DVD Tests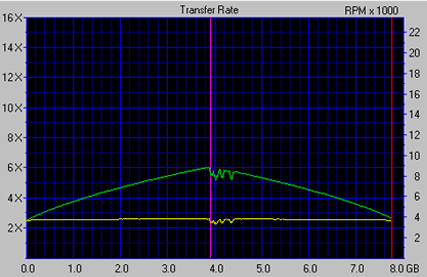 Nero DVD Speed 99 Benchmark
DVD Drive
DVD106
SD616
SDM1212
Disk Type
DVD-Video
DVD-Video
DVD-Video
Avg Speed
5.74x
4.85x
4.52x
Random Seek Time
98ms
81ms
111ms
1/3 Seek Time
111ms
88ms
116ms
Full Seek Time
187ms
158ms
187ms
CPU use: 1X
16
20
21
CPU use: MAX
18
31
31
As you can tell from the scores, the Samsung drive performs just slightly behind the Pioneer in the Transfer Rate tests, while managing to top the Toshiba unit. In the Seek Access Times test, the Samsung SD-616 had a larger edge over the Pioneer model, and commanding lead over the Toshiba drive.
The Pioneer drive had a much lower CPU Usage score when compared to both the Samsung and Toshiba at maximum speeds. I noticed that the Samsung drive had nearly identical scores as that of the older Toshiba during this particular segment of testing. In general, the Toshiba drive is beginning to show its age in the Interface Burst Speed tests when compared to the Pioneer drives blistering 8MB/s speed. The Samsung unit couldn't even muster up enough speed to pass the 1MB/s threshold. I attempted various settings and performed multiple tests to see if I could solve the low burst rate of the Samsung to no avail. Even the 2+ year old Toshiba ended up faster than the Samsung.
While testing the units during the segment for the Spinup/Spindown Time, the Pioneer unit proved to be fastest spinning up to speed, while slowest in spinning down times (compared to the Samsung and Toshiba).
For the testing of Disc Eject/Load/Recognition Time, the Samsung unit took more than double the time to eject a CD when compared to the other 2 drives. Samsung was able to redeem itself when it showed that it could load a CD faster than any of the other drives, in this case a full 8 seconds faster than the Toshiba. The Pioneer drive wouldn't register its times due to the slot load feature of this particular unit.