Motherboard: Asus A7V266-E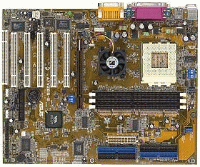 Asus have a reputation for making very good performing motherboards and components. So it is no surprising to see the Asus A7V266-E as the backbone of the XP 2000+ system. The A7V266-E is based on the KT266A chipset and supports PC2100 DDRAM - a mainstay of today's Athlon solutions - among several other substantial feature sets. The mainboard has three DIMMS, five PCI slots, one AGP, and one ACR slot.
Of the most noteable on the board is a C-Media CMI8738 audio controller which provides up to 6-Channels of on board audio - something that complements the 16X DVD drive (Pioneer DVD-500M) in the XP 2000+ system perfectly. Naturally, purists will want to drop in a full-fledged sound card to get the most possible out of the system.
The A7V266-E board also features RAID 0 which basically makes one big drive out of two smaller drives. What RAID 0 does is increase data transfer by about twice and decreases latency by about half (when implemented). It's especially useful for people who do a lot of streaming media, as it will give them a very fast hard drive sub system. However, RAID 0 is really not a RAID at all because there is no data redundancy. If one of the drives fails, all data can be lost.
Chipset: VIA KT266A
The VIA Apollo KT266A chipset builds upon the earlier KT266 chipset and features tighter timings and deeper queues designed to increase memory and system bus performance. The KT266A chipset supports up to 4GB of PC1600 or PC2100 DDR memory along with 200/266MHz FSB Athlon and Duron processors. Additionally, the KT266A chipset provides native support for 4X AGP, ATA 33/66/100, six USB ports and comes with integrated 6 channel AC-97 Audio, Modem, and networking (though not often utilized).
The 552-pin BGA chip is accompanied by the VIA VT8233 south bridge and forms the basis for many of today's more performance oriented motherboards.
Videocard: Asus V8200T5/64MB
The video card is a Asus V8200T5/64MB (GF3Ti500) which is stellar for gaming. For really intensive workstation applications there are other video cards better suited - like the Quadro DCC we mentioned earlier. Still, if you can't afford to spend the extra money on a card of that caliber, the GeForce3 Ti500 is a good as any place to start off.
Memory: Corsair PC2400 DDR (CM64SD256-2400C2)
Corsair have generally been regarded with good thoughts around here, so it was good to see that 512MB worth of PC2400 DDR was included in the system. Two 256MB sticks of CAS2 PC2400 DDR (Corsair XMS2400) to be exact.

The Micron chips are model 46V16M8-75A and this should make for a very good memory subsystem even though the Asus A7V266-E is only 'officially' rated for PC2100.

CM64SD256-2400C2

300MHz
256MB Modules (x2)
32Mx64
184 DIMM
CAS 2.0
Unbuffered
16Mx8
Hard Drive: IBM 40GB 7200RPM Deskstar
As the size of files continues to increase, 40GB drives are about the minimum anyone building a new system should be looking at. The difference in performance between drives that are 5400RPM and 7200RPM is pretty noticeable, especially if the older drive has a lot of platters, and the 7200RPM drive only has one or two. The 40GB IBM Deskstar used on the XP2000+ system uses two platters with four read heads capable of 8.5ms seek times. The disk rotates at 7200RPM. The hard drive uses a 2MB cache buffer and produces 3bels of noise while in operation.
Network Card: Allied Telesyn AT-2700TX 10/100
The Allied Telesyn 10/100 NIC is a PCI Fast Ethernet adapter. With an auto-sensing RJ-45 port the card supports Microsoft's latest standards; ACPI, OnNow, Magic Packet/Wake-On-LAN (WOL) and DMI. The drivers are native to Windows XP so installation is a breeze. DVD-ROM: Pioneer 16X DVD-ROM (DVD-500M)
The ability to watch a DVD from your computer without any flickering, jumping, or pixelation is necessity in this day and age. The Pioneer DVD-ROM in the XP2000+ system is currently the fastest speed DVD drive you can get on the market and it performed flawlessly during a test playback of the Matrix. The general specs on the DVD-ROM drive are as follows:
-High-Speed Average Access Time: 85ms DVD-ROM, 85 ms CD-ROM
-Transfer Rate: 21,600 kB/s Max (DVD-ROM), 6000 kB/s Max (CD-ROM)
-Reads single and dual layer DVD-ROM/Video, DVD-R/RW, CD-ROM, Audio CDs, CD-R/RW, Video CDs, Photo CDs, Hybrid CDs, CD-Extra (CD-Plus) and CD-Text Discs
-Horizontal or vertical mounting capabilities
Powersupply: Antec 400W PP-412X
A good power supply is more than just high wattage numbers and the right amount of Molex and system power connectors. While it is important to get P4 compliant power supplies today with a good amount of connectors for hard drives, CDROM's and other devices, don't shop exclusively by Wattage numbers. Look for the amount of ripple a power supply has, the lower the amount, the better quality the power supply is generally.
OUTPUT
+5V
-5V
+12V
-12V
+3.3V
+5V
Max. Load
40.0A
1.0A
18.0A
1.0A
28.0A
3.0A
Min Load
2.0A
0A
0.3A
0A
0.3A
0A
Load Reg.
± 5%
± 5%
± 5%
± 10%
± 5%
± 5%
Ripple V(p-p)
50mV
100mV
120mV
120mV
50mV
50mV