AthlonXP 2000+ Vs. P4 Benchmarks
Test Environment:
It's now time to get into the details and start looking at benchmarks!
Both processors will be tested on PC2400 DDR based systems for the best possible "apples-to-apples" comparison. As such, the P4 will be slightly handicapped as we all know it performs its' absolute best with the i850 chipset and RDRAM. However, RDRAM is not exactly popular with consumers, and so DDRAM is quickly gaining market supremacy.
The tests were conducted on a system running Windows 2000 Pro, as this is more suited to workstation applications, and business environments than Windows XP.
Processor
Core
General Specs

AMD Athlon XP 2000+

Running at 1.67GHz with 37.5 million transistors, the XP has a 128mm square core based on the 0.18 micron process from AMD's Fab 30 in Dresdin Germany. The XP 2000+ uses 128KB L1 and 256KB L2 Cache. The chip requires 1.75V to operate and produces up to 70W of thermal power (it typically sits at 62.5W) which is a substantial amount of heat. Max Icc processor current draw is 40A, and typically 35.7A, underlining the need for a good high wattage power supply.

Unit Retail Cost is approx.: $540 CDN

Intel Pentium 4 2.0GHz

Running at 2.0GHz, the P4 has a 217mm square core based on the 0.18 micron process from the Costa Rica Fab. The P4 2GHz uses 8KB L1 cache, 256KB L2 Advanced Transfer cache, a 128-Bit Floating Point Port and SIMD 128-bit Integer. The chip produces upto 75.3W of thermal power which is a bit more than the XP 2000+, but has a built-in thermal monitoring and an advanced thermal throttling system.

Unit Retail Cost is approx.: $830 CDN
Test System Specs:

Computer Hardware:

Intel 2.0GHz System
Athlon XP 2000+ System
Processor:
Intel Pentium4 2.0GHz
AMD Athlon XP 2000+
Clock Speed:
2000 MHz
1667 MHz
Motherboard:
MSI 845 Ultra-ARU
Asus A7V266-E
Chipset:
Intel i845D
VIA KT266A
Videocard:

Asus V8200T5/64MB (GF3Ti500)

Network Card:

Allied Telesyn AT-2700TX 10/100

Memory:

2x 256MB Corsair XMS PC2400 DDR, CL2 by SPD

Hard Drive:
Samsung SV6004H 5400RPM UDMA100 60GB
IBM Deskstar 7200RPM UDMA100 40GB
CDROM:
Samsung SM-308 CDRW-DVD
16X Pioneer DVD-ROM
Floppy:

Mitsumi 1.44MB

Heatsink:
Arkua 8568
Foxconn Generic
PowerSupply:
Enermax 431Watt
Antec 400W
Operationg System:

Windows 2000 Professional

Detonator Driver:
21.83
21.83
Overall System Benchmarks:
SYSmark2001 uses realworld applications concurrently as an accurate way to test the system by following patterns that reflect the way real users work. SYSmark2001's workloads represent today's updated business usage model. The benchmark runs at a realistic execution speed, with think times between application interactions, in order to emulate a desktop user's interaction with the operating system and applications.
Higher numbers denote better performance.
BapCo SysMark 2001 Benchmark Results
Processor / Test
Sysmarks
Ranking
Internet Content Creation
1.
Athlon XP2000+
199
2.
Pentium4 2.0GHz
217
Office Productivity
1.
Athlon XP2000+
141
2.
Pentium4 2.0GHz
147
In Windows 2000 the Pentium 4 chip comes out a head. There is a patch for Sysmark 2001 when run in WindowsXP that fixes a problem with the SSE compatibility of the Athlon XP. Without it, under Windows XP only, Sysmark doesn't utilize the SSE compatibility of the Athlon XP. The patch doesn't affect Sysmark, but just allows the Athlon XP use it's SSE-compatible instructions within 3DNow! Pro according to AMD.
In any event, the differences between the XP2000+ and P4 are slight as far as office productivity is concerned. The difference is a little more pronounced when SysMark examines Internet Content Creation applications however.
SuperPI calculates the number PI to 1 Million digits in this raw number crunching benchmark. The benchmark is fairly diverse and allows the user to change the number of digits of PI that can be calculated from 16 Thousand to 32 Million. The benchmark, which uses 19 iterations in the test, is set 1 Million digits.
Lower numbers denote faster calculation times (seconds), and hence, better performance.
Super PI (1 Million digits) Benchmark Results
Processor
seconds
Ranking
1.
Athlon XP2000+
75 sec
2.
Pentium4 2.0GHz
95 sec
SuperPI is a fun benchmark for us. In this raw example of pure calculations, it takes 95 seconds on the 2.0GHz Pentium 4 for the SuperPi application to calculate Pi to 1,000,000 digits. On the other hand, it takes just 75 seconds on the Athlon XP 2000+ do the exact same set of calculations. Again, we are seeing a prime example of the Athlon's raw FPU prowess.
SPECviewperf™ is a portable OpenGL performance benchmark program written in C. It was developed by IBM. Later updates and significant contributions were made by SGI, Digital and other SPECopcSM project group members. SPECviewperf provides a vast amount of flexibility in benchmarking OpenGL performance. Currently, the program runs on most implementations of UNIX, Windows NT, Windows 95/98 and Linux.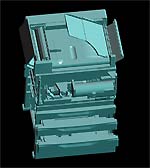 Higher numbers equate to better performance.
SPECviewperf 6.1.2 Benchmark Results
Procssor / Test
Score
Ranking

Light_04

1.
Athlon XP2000+
8.767
2.
Pentium4 2.0GHz
7.883

DRV_07

1.
Athlon XP2000+
22.57
2.
Pentium4 2.0GHz
18.28

DX_06

1.
Athlon XP2000+
31.79
2.
Pentium4 2.0GHz
28.99
SPECviewperf is a professional 3D CAD based benchmark. The XP2000+ wins in probably the most important test, the Light_04 test, where the system is pretty much all processor limted. In the other tests, the DRV_07 and DX_06 the Athlon XP2000+ does equally well at putting the Pentium 4 2.0GHz to shame. These tests are more of an overall system benchmark. It is common knowledge that the Athlon's have always had more powerful FPU's then their Intel counterparts which we are seeing for the most part in SPECviewPerf.
The Persistence of Vision Ray Tracer (POV-Ray) is an all-round excellent package, but there are two things that particularly make it stand out above the rest of the crowd. Firstly, it's free, and secondly, the source is distributed so you can compile it on virtually any platform
Lower numbers denote faster calculation times (seconds), and hence, better performance.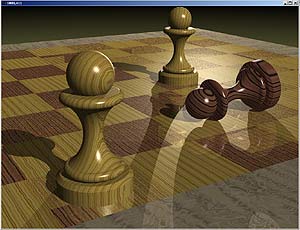 POVRay Benchmark Results
Processor
seconds
Ranking
1.
Athlon XP2000+
189 sec
2.
Pentium4 2.0GHz
299 sec
The benchmark results listed above are for rendering a single image of the pawns wire frame at 1024x768 resolution (AA0.3). The faster system comes in with the lower time to complete the job, and in this case the Athlon XP2000+ kills the P4 2.0GHz by a good margin (110sec). AMD chips have always been known for their ability to do big-time number crunching.