3DMark2000 is still a popular benchmarks for evaluating 3D performance even though it is getting a bit dated. 3DMark2000 continues to provide benchmark results that gage DirectX7 performance and hardware transformation and lighting that older games still use. Version 1.1 ensures more reliable functionality with hardware and operating systems that were released after the launch of 3DMark2000 in December 1999. Higher numbers denote better performance.
3DMark 2000 v1.1 Benchmark Results
Processor
3DMarks
Ranking
1.
Athlon XP2000+
11125
2.
Pentium4 2.0GHz
9461
This is more of a game benchmark, but since it tests DX7 we've included here as well as in the sister review to this. The Pentium 4 doesn't stand up very well whatsoever to the XP2000+.
3DMark2001 is the latest installment in the 3DMark series by MadOnion. By combining DirectX8 support with completely new graphics, it continues to provide good overall system benchmarks. 3DMark2001 has been created in cooperation with the major 3D accelerator and processor manufacturers to provide a reliable set of diagnostic tools. The suite demonstrates 3D gaming performance by using real-world gaming technology to test a system's true performance abilities. Tests include: DirectX8 Vertex Shaders, Pixel Shaders and Point Sprites, DOT3 and Environment Mapped Bump Mapping, support for Full Scene Anti-aliasing and Texture Compression and two game tests using Ipion real-time physics. Higher 3DMark scores denote better performance.
3DMark 2001 Benchmark Results
Processor
3DMarks
Ranking
1.
Athlon XP2000+
8026
2.
Pentium4 2.0GHz
7617
As 3DMark2001 is a DirectX8 benchmark, it is much more intensive than the previous version. The Athlon processors have traditionally enjoyed a lead in 3DMark scores and the Athlon XP2000+ is no slacker. The benchmarks for both systems were a bit higher running under Windows XP, but as most workstation class applications prefer Windows NT or Windows 2000 (in this case) the results are a bit lower.
Conclusions: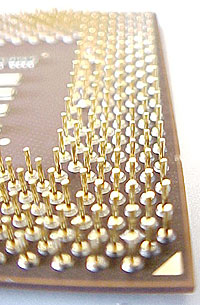 AMD has really come a long way since the K6, K6-2 and 3 days which saw underpowered CPU's teamed up with sub-par hardware leading to tons of compatibility and stability problems. Even Intel, AMD's much bigger rival is having a hard time keeping up in terms of performance with its much higher rated (in MHz anyway) CPU's.
Since this the focus of this XP2000+ system review was the workstation, there no need to dwell on overclockability or system level tweaks that most gamers constantly fawn over.
The person doing digital video editing, content for the internet, simple office applications like Excel, or designing something in a CAD/CAM program is looking for two things primarily - performance and 1005 reliability. A system that chockes on large spreadsheets, humongous excel tables or complex wire frames is not going to improve the productivity of that person.
Businesses, especially in this fiscally conservative environment, require the least expenditure for the best performance and AMD is incredibly capable in this regard. The Athlon XP 2000+, as with most gaming senarios is at par, or in most cases, above par when squared off against the Pentium 4 2.0GHz in a DDR system.
The system we have looked at today is a great example of what "performance" hardware can do when teamed up with such great processor. The Asus A7V266-E which is based on VIA's KT266A chipset, 2x 256MB Corsair's extraordinary XMS PC2400 DDR and Asus's own V8200 Ti500 Pure make this machine a force to be reckoned with.
With the upcoming release of the Thoroughbred core (the .13 micron Athlon) and with all the DDR333 based chip sets coming out, things can only get better!