Like AMD's Hypertransport technology, PCI Express is a 2-way, serial connection that carries data in packets, similar to the way it is transferred over Ethernet connections.
The PCI Express bus is no longer a single parallel data bus through which all data is routed at a set rate. Rather, an assembly of serial, point-to-point wired, individually clocked 'lanes' each consisting of two pairs of data lines carries data upstream and downstream. As the technology goes to market, each of these lanes is capable of a 2.5Gb/s data rate in each direction. The overall sustained transfer rate roughly equals 250MB/s.
PCI Express was designed with future upgrades in mind, and should see increased results with later enhancements. Where the real performance benefit comes in is when more than one lane is added to a given point-to-point route. Lanes can be stacked together to increase the amount of bandwidth available to specific areas of the I/O system, such as the video card slot, for example.
This technology has a couple of immediate benefits. First of all, the amount of trace routes on any given motherboard areconsiderably reduced by the adoption of point-to-point circuitry.
Using 4 routes instead of 32 for a basic connection, you can see how motherboard manufacturers might well be enthusiastic about this technology, as this would significantly cut the costs of producing motherboards in the long term. Secondly, since each lane is exclusively used for communication between two points, there is no sharing of the available bandwidth.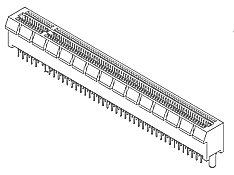 The objective then, was to create an I/O bus technology that will have the staying power that 32-bit PCI slots have enjoyed, a decade or more into the future. It seems like it has been a success thus far.
Upcoming technologies such as Intel's multi-Gigabit Ethernet 'Dual Northway" chipset, will inevitably require more bandwidth than PCI can currently offer, so its phasing out in the server market seems inevitable.
The biggest impact that PCI Express has made on the desktop market is with the PCIe x16 graphics slot. Found in the latest Intel and AMD-based chipsets, This implementation of the technology has virtually replaced AGP 8x as the platform of choice for graphics card manufacturers. All new graphics cores from both nVidia and ATI support PCI Express x16 by default, though some have been ported to AGP 8x.
The 164-pin X16 slot provides a total usable bandwidth of around 4GB/s in each direction, double the 2.1GB/s bandwidth that the 8x AGP spec boasts. The X16 specification is pretty similar to AGP in terms of connector card size, though entirely non-compatible, which gives it a boost in terms of familiarity and ease of installation.
nVidia has succeeded in creating dual-SLI graphics technology using the PCIe x16 slot and its new nForce 4 chipset . This technology allows two PCIe x16 slots to split 16 lanes of PCI Express into two sets of eight and run two identical video cards in tandem. This leads to often dramatic boosts in 3D gaming performance.