Among other things, Intel has suggested a topology for the future that would separate the computing unit from the monitor, interface devices and external drives using PCI Express cable connections as a go-between.
A concept PC like that would enable complete modularity in servers and even desktop systems if manufacturers are willing to accept it. Of course, this is significantly beyond the current plans for PCI Express, but if the technology is capable of supporting more user friendly expressions of computer form, they will probably be developed.
PCI was developed in part to make computer configuration easier to handle, so there is no reason why PCI Express should not take this to a new level. External video cards, anyone? Speaking from past experiences, I don't know how many times external components have been mentioned as a 'wave of the future' type of thing; how about an entirely component based PC like a stereo system?
It is unlikely that the makers of Firewire and USB 2.0 devices have much to worry about in the short term, despite the apparent ability of the PCI Express technology to carry out their roles without even requiring a bridge to connect to the rest of the I/O system. USB and Firewire devices are already very common, and by the time external devices supporting the PCI Express specification become available in a year or two, they should have become so prevalent in the market that manufacturers will have to continue support for them for the same reasons that PCI Express was designed to coexist with PCI 2.2.

Also, the ExpressCard format explicitly combines USB 2.0 and PCI Express in a single slot for portable and small form factor devices. This is both an indication that PCI Express is not necessarily intended to supplant USB anytime soon, and a concession to the continued usefulness of USB technology in the brave new world of sometime next year.
PCI Express does not compete with AMD's Hypertransport technology, but rather coexists with it in order to move data more efficiently in chipsets like the nForce 4 and K8T890.
Likewise, PCI Express is intended to serve as the underlying data-transport technology for I/O methods like serial ATA and SCSI, not to replace them. PCI Express is going to replace AGP as the conduit between the graphics chipset and the processor and memory however.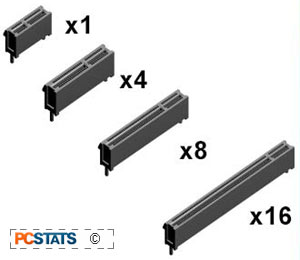 As you can see, the modularity of the PCI Express system should enable it to carry out many different roles in the computer industry. As manufacturers will have the capability of deciding how much bandwidth to assign the needs of a specific market. Commenting on server technology is slightly beyond the scope of this article, but it is easy to see how PCI Express technology could work well in this high-data area.
The PCI Express architecture is not intended to replace current CPU/memory bus technology, but rather to work with it by providing more available bandwidth and flexibility for the rest of the I/O system.
While it was originally believed that the PCI Express developers group might be looking at ways to standardize the CPU and memory buses within the system as well this is not part of the final approved specifications.
Industry heavyweights ATI, Nvidia, and even AMD have already given PCI Express their support for years to come. With endorsements like that it seems inevitable that the PCI Express I/O system will be the basis for the forseeable future.
Find out about this and many other reviews by joining the Weekly PCstats.com Newsletter today!