An introduction to PCI Express: the AGP8X Replacement
---
Compared to the progress made every year in other areas of computer technology such as processors and video cards, computer I/O system technology would seem to be standing still… in fact it is. Since the introduction of the original PCI bus back in the early 90's, very little has changed in the way that data is handled inside your computer.
Hard drives, peripherals, LAN cards, sound cards, USB, and firewire all pass data through the same I/O system as your first 486 PC; the PCI bus running at 33mhz and shifting 133MB/s of data. As an example of recent technology, a Pentium 4 with DDR memory can shift 2.1GB/s across the memory bus. The 8x AGP bus can pass about 2.1GB/s of data a second too. These are technologies developed essentially to get around the limitations of the PCI.
An ATA 133 hard drive on an Ultra/133 IDE controller card can theoretically overload the PCI bus all by itself, though only in brief bursts. The sustained transfer rate for current drives is too low to do this however. Now let's think about RAID, SCSI and now Gigabit Ethernet.... All of these data transfer technologies are trying to pump information through that slim little 133MB/s parallel PCI bus. This is the definition of a bottleneck.

Now all things considered, it is probably a good thing that the PCI bus has remained essentially unchanged since its inception. For one thing, it works.
It has provided a stable and flexible platform for hardware and software developers to build on for almost a decade. Anyone who remembers the days before Windows 95 and 'Plug and Play' devices will understand why computers have become so much more common since then.
Now there are three other PCI specifications in existence, all designed to increase the amount of available bandwidth. These are 66MHz PCI, PCI-X at 64bit/133MHz, and the soon to be introduced PCI-X 2.0.
The trouble is, while these technologies have, or soon will find a permanent home in the server market, the complexities and extra costs they introduce to motherboard manufacturing mean that they will be virtually unknown at the desktop level. PCI-X, for example, requires a controller for every slot and that is just too expensive. The solution to this is being backed by everyone's favorite processor manufacturer, Intel.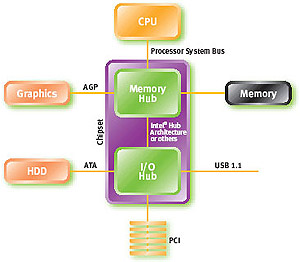 Intel, in partnership with several other companies which include the likes of IBM, Dell, Compaq, HP and Microsoft, recently introduced what will be the new standard for PC I/O in the years to come; PCI Express (formerly 3GIO or 3rd Generation I/O) is the name which it was given by PCI-SIG, the committee responsible for overseeing the PCI interface standard.
Approved as a standard on April 17 2002, PCI Express is an evolutionary upgrade to the existing PCI bus. It co-exists with the now 'legacy' PCI bus, but in terms of form, it is something completely new.