PCI Express connectors are similar in appearance and connection method to 32-bit PCI slots. PCI Express 1X slots are about the size of current modem riser slots (about 1" long), while the X16 interface (164-pins) for graphics is very similar in appearance to the standard AGP port. The flexibility to adapt to PCI express devices of different bandwidths is built into the midrange X4 and X8 slots that we have seen.
For the portable market, a new standard called the 'ExpressCard' has been created by the PCMCIA group in cooperation with the development of PCI Express by the PCI-SIG group. Many of the companies involved in the work on PCI Express are members of both trade associations, so it can be considered a joint effort.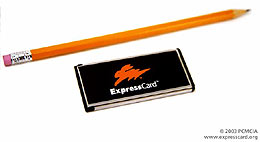 The ExpressCard is clearly meant to be a technology that bridges the gap between current notebook designs and future PCI Express enabled ones.
The interface and form-factor (similar in appearance to the current PC Card form factor for laptops) supports both USB2.0 and PCI-Express, allowing manufacturers to implement one or both without worrying about being ahead of or behind the times.
Intel has used ExpressCard technology as an integral part of their 'Marble Falls' small form factor PC technology demonstration. ExpressCard slots will not be compatible with previous PC Card peripherals.
Adding to the potential flexibility of the PCI Express system, is the capability of external connections. The same 200MB/s point-to-point connections could be extended over cable outside the box to a distance of approximately 5 meters. Add this to the fact that designated PCI Express connectors will be hot-pluggable, and you have the potential for some very interesting uses of the technology.