To be effective, any form of backup needs to put the files onto a separate storage device. A CD burner is probably the cheapest solution for archiving or copying files to be backed up, but it's a bit of a chore to use one for making drive images, and currently the built in Windows XP backup software does not support backing up to CD (though you can make a backup onto the hard drive then burn that archive onto a CD).
An alternate hard drive is a sound investment, since you can also use it for other purposes, though of course using it to store data in addition to your data backups poses the kind of logical question that I like to avoid on principle...
Backing up in WinXP
Windows XP comes with a fairly effective backup and restore utility, fortunately. Users of XP Professional will find it already installed under Start/programs/accessories/system tools/backup, while XP Home users will need to add it from the CD by going to (your CD drive:)\Valueadd\msft\ntbackup and double clicking the 'NTBACKUP.MSI' file. This will start the installation wizard for the backup program.
This utility will allow you to archive pre-selected files, or specify your own, and also can create a full system backup including an Automated system recovery (ASR) floppy disk. The best way to ensure your system is fully backed up is to use a combination of both methods.
First, Create a full system backup (essentially a drive image of your Windows drive, and if desired, the other drives present). This image will enable you to restore your system to the state it was in at the time of the backup in the event Some Awful Thing happens to your hard disk.
Creating a system image backup file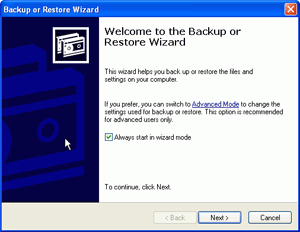 To backup your entire system, start the backup wizard, then select 'backup files and settings,' then 'all information on this computer.'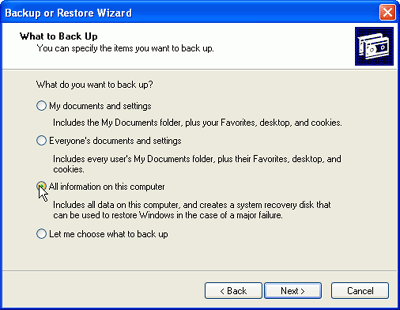 Note: Doing the backup this way will create an image of all the drives on your computer. If you only wish to backup the system drive (c:), instead of using the wizard, click 'advanced mode' when you start the backup program, then select the 'automated system recovery wizard' instead. This will walk you through the same steps, but will only back up your main drive.