You will be prompted for a location to store the backup image, either on hard disk or a tape backup device if present, and to name the backup. Note that this image will be large. In fact, it will be slightly less than the total amount of space you are currently using on the drives you plan to back up.
Make sure you have enough free space to accommodate this backup file as the program will give you an estimate of the amount of space you will require, but it will not halt the operation if you do not have enough.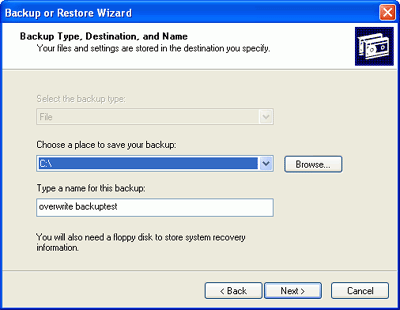 Once you have entered this information, the system will back itself up to the location you specified, creating a single large file. Once this is complete, you will be prompted for a formatted 1.44MB floppy disk which will store the system recovery information , essentially to point the Windows setup program to the location of your system backup so it can restore it. Don't lose this disk.
Once you have created your system image backup, and stored your recovery floppy in a safe place (a safe place you can find again), it's time to create a separate backup for your personal data.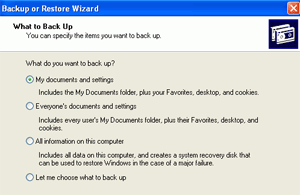 Backing up personal data
The system image you created does back up your personal data as well, but it takes a huge amount of time, so it's just not practical to do often. Better to create a small archive which you can back your files and documents up to whenever necessary.
If the worst happens, you will first restore the full system image that you created, then restore the archive of your recent data afterwards. This way you can ensure that a minimum of data is lost.
Now to archive your essential data files, such as my documents and your shortcuts and desktop settings, plus any other essential data. To perform a basic archived file backup with the Windows backup utility, start the backup wizard and choose 'backup files and settings,' then 'my documents and settings'