You can also restore a full drive image within Windows, overwriting the current configuration with the old one. To do this, you simply restore your drive image backup file as you did with the archive above, and specify to overwrite existing files. Windows XP includes an automatic system restore utility, however (Start/programs/accessories/system tools/system restore) that takes periodic snapshots of your system settings and can rollback to an earlier point if you wish. This is a better choice provided your system is still functional. It can't help you if your drive dies though, and you will be glad you made that image backup!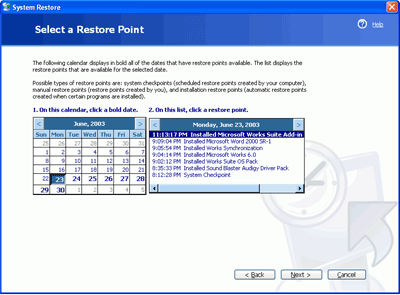 Freeware backup utilities.
If you do not wish to use the built in Windows backup software, there are several other choices available for archiving and making drive images. Of course, there are many comprehensive commercial packages available, but there are also several excellent freeware utilities. Unfortunately, almost all of these only cover archiving, not creating drive images.
There are some DOS based partition copying/image creating programs available, but since they are DOS based, there are difficulties with NTFS partitions such as XP uses. The good news is that some of the archiving programs offer features not available in Windows backup.
Here's a selection...
ASCOMPBackUpMaker (URL:www.ascomp.net/index.php?php=prog&prog=backupmaker.en)
BackUp Maker is an excellent free backup utility. It offers the ability to quickly create archives and scheduled (the 'instant backup' tab) backups, and has an easy to navigate interface. The real advantage of this program though, is its ability to write backups directly to CD from the program. This allows you to use CDs to store your backups without necessitating the use of a third party CD burning program, as is needed with Windows backup.