Abstract: 3dfx has established itself as one of the market leaders in manufacturing high-quality, high-performance 3D chipsets and cards.


85% Rating:

Home > Reviews > Video Cards > 3DFX Voodoo3 3000
Benchmarks: 3DMark 99 MAX
3DMark 99 MAX

3DMARK is a "synthetic" benchmark which gives tests Direct3D performance of a video card. It gives an indication of the performance of both your 3D card as well as how well your CPU performs under a 3D environment. This particular piece of benchmarking software will give you an idea of how well your graphics card will perform under a high-performance theoretical environment. Basically, 3DMark pushes your hardware to the limits. 3D CPUMark scores test the 3D performance of your CPU. 3DMARK is enaled for CPU-supported optimizations such as 3DNow! and SSE. The following tests were run in a 640x480x16-bit colour environment with 16 bit Z-buffer enabled, triple buffering and vSync disabled.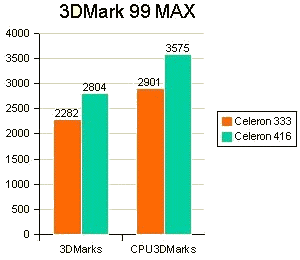 The 3DMarks signifies the overall performance of the total computer system (including your 3D card and CPU). The higher the number, the better equipped your system is for gaming requirements. So if you have a Voodoo3 3000 sitting on an Athlon 750 or Pentium III 700, your overall score will be certainly alot higher than these.

On the other hand, the CPU3DMark score indicates how well your CPU handles lighting and geometry. This of course means that ONLY the CPU (and memory bandwidth) is under scrutiny here and is not dependent on your 3D accelerator. Again, the higher the number the better.

As you can see, there is not much you can really interpret from these scores. As with all synthetic benchmarks, different figures between different performance levels of hardware are the only ways that you can compare various results. Take these numbers given above and compare them with your own system. As of now, 3DMark 2000 is out but will not be used in this review. Do note that results from 3DMark 2000 and 3DMark 99 MAX PRO are totally incompatible. So don't cry if your numbers do not match these above if you do use 3DMark 2000.

Let us move on to see some "real-world" benchmarks...