Forsaken

Forsaken is an old favourite among benchmarking probably because of the resultant high frame rates one obtains while testing out a 3D card. As usual, all tests are run with Vsync disabled.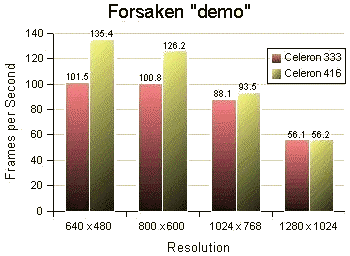 As we see yet again, the Voodoo3 3000 is capable of pushing out far more than 135.4 FPS if used with a CPU more powerful than a Celeron. This is actually good news. I am pleased to see that this Voodoo3 3000 works superbly with my current setup and will allow to see even higher framerates when the time comes for a CPU upgrade. 1280x1024 is a different story though. The Voodoo3 turns out to be alot less CPU dependent than in lower resolutions. But still, as we see in the benchmark, the framerates are still very acceptable.

Expendable

Expendable is a very CPU dependent game which means that the slightest difference in frame rates (even 1-2 FPS) signifies a great deal in performance of any given 3D accelerator. On a side note, interestingly enough, Rage software has included a warning with the game stating that possible epilepsy fits may result due to the amount of white flashing that occurs in the game. Sigh... What is the gaming world coming to? As if the accusations of violent influence among games isn't enough, health hazards are now coming in the picture.

Expendable benchmarks are in 640x480 resolution. When testing in higher resolutions, the "go -timedemo" just seemed to fail (for reasons unknown to me).


Even at such a low resolution of 640x480, the Celeron clocked at 333 just cannot handle more than 23 FPS average. Such is the complexity of Expendable. But as in the case of both Expendable and Quake3, it really shows!