Abstract: 3dfx has established itself as one of the market leaders in manufacturing high-quality, high-performance 3D chipsets and cards.


85% Rating:

Home > Reviews > Video Cards > 3DFX Voodoo3 3000
Benchmarks: Quake 2 / Quake III
OpenGL Performance

Since the beginning, the Voodoo line of cards have always been quite strong OpenGL performers with games such as Quake2 and Quake3. Further OpenGL optimisation through their MiniGL ICD has pretty much pushed their products to the limit. In the OpenGL area, the Voodoo3 chipsets stay on top of the game in terms of sheer performance. The following benchmarks in Quake2 have made use of 3dfx's MiniGL ICD v1.48. Quake2 was used to benchmark the Voodoo3 3000 using "timedemo 1" under the 3dfx OpenGL setting and with Vsync disabled. Here are the results.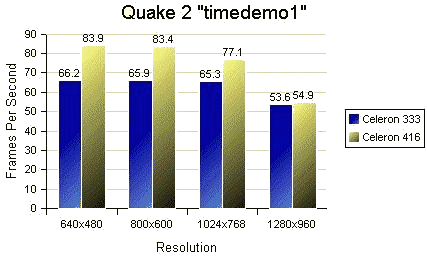 Looking at the 640 x 480, 800 x 600 and 1024 x 768 results (especially under Celeron 333), you can see that they are pretty much the same. The reason is, at this level of CPU speed, the Voodoo3 3000 is actually waiting for the CPU to feed it more data. So in this case, the Voodoo3 can easily exceed far beyond what is given here under Quake2 with a faster CPU. Even at 416MHz, 640x480 and 800x600 have similar framerates which means that this monster 3D accelerator can take far more than this test system can provide to it. Now under the 1280x960 resolution, we see that there is not much of a difference between the Celeron running at 333MHz or 416MHz. In the lower resolutions of 1024x768 and below, the FPS difference is almost 18FPS just for a 83MHz gain in CPU speed and 17MHz gain in bus speed. In 1280x960, the difference is less than 1.5FPS. The Voodoo3 3000 has pretty much reached a point to where a signifant increase in CPU speed will not result in as much of an increase in FPS as it will in a lower resolution. The reason for this is because the sheer amount of data that has to be processed in a given time at a particular resolution. As 3D accelerators have a fixed bandwidth, a smaller amount of data will naturally be processed faster than a large amount of data. That is why framerates are lower at higher resolutions. But 54FPS in 1280x960 really isn't bad at all! As 3dfx has been saying that 60FPS in 1024x768 is the current level we should all be playing at, not only have they surpassed it, but they have nearly reached that level in 1280x960 in Quake2! And that too on a slow (compared to today's standards) machine like this Celeron!

Now to go beyond Quake2, lets move on to id Software's latest first-person shooter, Quake3...

Quake 3 Demotest

The successor of the multi-platinum first-person shooter Quake2 is Quake3 (obviously). In this review we will be looking at the Quake3 Demotest V1.09. Quake3 is based upon a highly complex 3D-engine which really stresses your CPU and 3D card to a greater extent than Quake2. The main settings prevalent in Quake3 are Normal, Fast, Fastest, High Quality and Custom. Normal, Fast and Fastest are the references we will be using. As the Voodoo3 3000 (or any other Voodoo3 and before) does not support 32-bit rendering, the High Quality setting will not be used in this case. The 3dfx MiniGL is totally incompatible with Quake3. But not to fret, the Voodoo3 is certainly a strong performer in Quake3 as well. All tests are run under "timedemo 1" and "demo demo001" with Vsync disabled. Here is the data...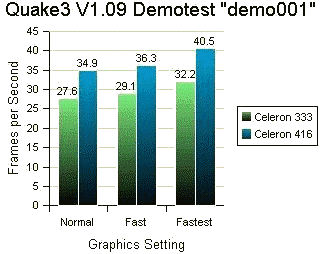 Under the "Normal" setting the resolution is set at 640x480x16. "Fast" and "Fastest" are run in 512x384x16 with the difference between the two being the method of lighting used in the game. In all settings trilinear filtering was not used (bilinear was).

These results sure take a beating when compared to Quake2, eh? Well, if you actually see the detail levels in Quake3, you will know why. Naturally, with the further progession in 3D technology, there will be an substantial increase in demand of 3D processing performance. This is evident in the transition from Quake2 to Quake3. As in the case of Quake2, Quake3 seems to be pretty scalable with the increase in CPU performance. With a higher power CPU such as the Intel Pentium III/600, the Voodoo3 can reach beyond 60FPS in the "Normal" setting. As it stands right now, I have felt that playing Quake3, even on a Celeron 333, is certainly a pleasurable experience. I have not experienced any "lag" at all. So for those of you playing on systems comparable to a Celeron, rest assured you will not have to worry about getting "fragged" due to the drop in frame rates. The Voodoo3 3000 will certainly take care of you.

On to Direct3D real-word performance...
Direct3D

Under the Direct3D API (for real-world testing), we have taken the results from Expendable as well as Forsaken. As Direct3D is the largest common denominator for most 3D accelerators in the market, we will use the results here for comparing the Voodoo3 3000 against future 3D card reviews.