Abstract: 3dfx has established itself as one of the market leaders in manufacturing high-quality, high-performance 3D chipsets and cards.


85% Rating:

Home > Reviews > Video Cards > 3DFX Voodoo3 3000
Drivers
TV-Time!

The 3dfx Voodoo3 3000 also provides TV output through an S-Video connector. This is provided by Conexant's bt869 digital video encoder. The bt869 provides for either 640x480 or 800x600 resolution on television sets. This is quite useful when you want to play games or give presentations of whatever nature on your big screen television. It sure beats these small screen 14"-17" monitors (which is all most of us can afford). Though 3dfx is primarily into the 3D acceleration business, it is extremely nice to see them adding these extra goodies. For checking out TV display, I used my 5 1/2 year old Videocon 25" TV along with a 34" Sony. My Videocon TV is in really bad shape, its blue component in the RGB array isn't working at all ;) .. The output through S-Video is of pretty high-quality. The text aspect of the output wasn't all that impressive. When under Windows 98, the text, although legible, was pretty blurred. The sharpness did improve once I was running Quake3. I did experience some flicker with the display in the Windows 98 environment but it can be reduced as the bt869 does provide flicker-fixing circuitry. 3dfx provides the software control aspect of the flicker-fixer through 3dfx tools. Setting up the TV display was a breeze. Just plug in the S-Video end of the cable into the S-Video out of the graphics board and plug a regular RCA video cable into the TV on one end and into the connector provided by 3dfx. Then go into 3dfx tools by right-clicking on the desktop, clicking on properties, click on settings, then Advanced and click the column labeled 3dfx TV and check "Enable output to TV" and select the "Signal type" to India. Leave the connector type as Auto and Voila! Instant television display. There are a further group of settings under 3dfx TV which let you adjust screen size and positioning as well as adjusting the sharpness of the display. Pretty cool if you ask me! Keep in mind that the 640x480 and 800x600 resolution MUST be the same between the TV and monitor if you decide to go in for dual display. Oddly enough, the latest version of 3dfx Tools does not provide an option for using BOTH your monitor and TV at the same time.

Naturally, television is not capable of producing as clean and sharp images of a monitor but the colours were very accurate and rich. My eyes were glued to the set while playing Quake3 demotest, especially while using the 34" Sony. For a better experience, connect the sound card to a hi-fidelity stereo system and you have got an arcade gaming room in your own home!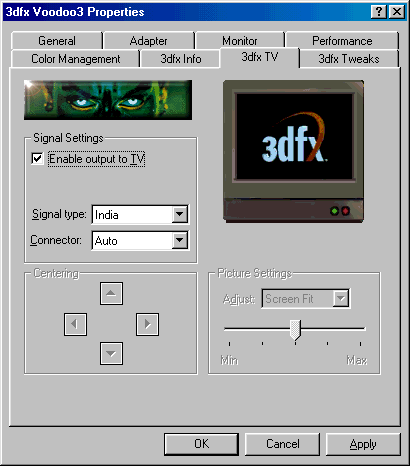 3dfx Tools

As with other video card manufacturers, 3dfx provides a CD with their own package called "3dfx Tools". With this, you can change a variety of settings under Windows Desktop, Direct3D and Glide environments. These would include gamma settings, image quality settings as well as options under Glide/OpenGL such as "Force Triple Buffering", "Limit Texture Memory to 2MB", etc. The settings can be stored in each environment seperately. For example, gamma settings with Windows desktop can be kept different from Direct3D or Glide. Though no provision was given to set the SDRAM/chip core speeds of the card. This setting can be achieved through Powerstrip though. 3dfx driver information is given through 3dfx Info. This tells you the current and previous versions of 3dfx Tools and drivers. Useful in case you don't remember which drivers you installed or if you want to check if you have the latest drivers.

Here are some screenshots of 3dfx Tools...