3dfx Voodoo3 Videocard Review
---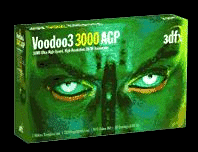 Introduction

3dfx has established itself as one of the market leaders in manufacturing high-quality, high-performance 3D chipsets and cards. In addition to hardware manufacturing, 3dfx had written their own API for use with 3D applications (okay, games) known as Glide. Glide had won the support of every major software (again, games) developer and there was a time where you could see the 3Dfx (as it was then) logo on the boxes of games. Previous graphics boards made by 3dfx include the Voodoo Rush, Voodoo Banshee and the much-loved Voodoo2. The Voodoo2 was a 3D-only solution that allowed for extremely high frame rates (during its time) and was the hands-down leader (performance-wise) in the mainstream graphics industry.
Everyone who owned a Voodoo2 was the envy of the neighbourhood. The Voodoo2 was not your regular video card capable of displaying analog VGA output. Rather is was strictly a 3D accelerator board which performed all 3D operations on the Voodoo2 chip. It did not have an analog output since it didn't do 2D either. In order for you to see something, you required a regular 2D board with a VGA-out. The Voodoo2 board simply connected to the regular 2D card by way of an external pass-through connector.
While under a 2D environment such as Windows, your 2D card would do all the processing. But when 3D applications are in the spotlight, the Voodoo2 would jump out of the shadows and roar through the 3D acceleration process. If this were not enough, Voodoo2 architecture provided something known as SLI. SLI stands for Scan Line Interleaving. By way of this, you could add another Voodoo2 board on your system and connect both Voodoo2 boards together. Of course, you would be confined to only purchasing the same Voodoo2 (same manufacturer) and both would have to be PCI.
When it is time to start 3D processing, each Voodoo2 card would render every other scan line to be drawn. This pretty much doubles the performance of your 3D games. Of course, it came for a steep price. Two Voodoo2 boards would require an investment of $600+! Not to mention the cost of a 2D card. Of course, prices have come down now (if you could even find one now). Before Voodoo3, 3dfx simply made the Voodoo chips and sent them out to other companies to be built on PCBs. Subsequently, 3dfx acquired STB and started putting their Voodoo chips on their OWN boards.

About a year and a half after the initial release of Voodoo2, the long-awaited Voodoo3 line of graphics accelerators hit the market. 3dfx's Voodoo3 line are made up of the following members.

- Voodoo3 2000
- Voodoo3 3000
- Voodoo3 3500/TV

Essentially, all boards are based upon the same architecture and design. The only major differences in performance between the three lie in core clock, memory and RAMDAC speeds. Here we will be reviewing the Voodoo3 3000 (in case you forgot what you clicked on). Before moving any further, here are the specs...