Abstract: Know... before your hard drive kicks the bucket, taking all your data with it. Clickity-click, time to defuse that dying hard disk!

Home > Reviews > Beginners Guides > PCSTATS
Hard disk diagnostic tools
Let's take a look through some of the tools you can use to diagnose drive troubles before they become terminal.
Windows Disk utilities: CHKDSK
The CHKDSK utility included with Windows XP can perform both quick and surface scans.
You can launch the utility from Windows by opening 'my computer,' right clicking on the hard drive you wish to test and selecting 'properties' then from the 'tools' tab, select 'check now.'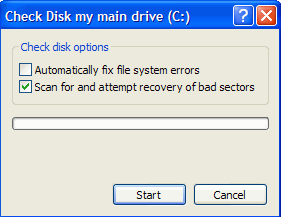 We're going to use the command prompt method of running the program, since it gives more visual feedback:
Open the command prompt by going to 'start/run' and typing 'cmd.'
From the command prompt, type 'chkdsk /v (the drive letter you wish to check):' and hit ENTER. CHKDSK will do a quick scan of the drive, then inform you if it found any errors.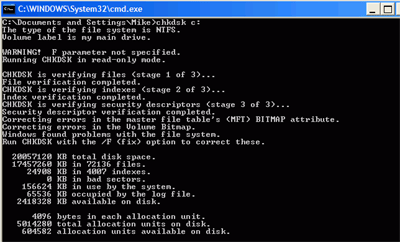 Now run 'chkdsk /R (same drive letter): to perform a full surface scan for bad sectors and fix any errors. Chances are you will be requested to restart the computer in order to carry this out, since the utility needs exclusive access to the disk in order to do a surface scan and fix errors.
Once you have restarted and CHKDSK has carried out the surface scan, Windows will boot normally. For a log of the results, right-click 'my computer' and select 'manage,' then open up 'event viewer\applications'.
Look for the most recent event from the 'winlogon' source and double click it to open the log. All the details about the operation CHKDSK just performed, including any bad sectors found, will be in here.
CHKDSK is all the program you need to perform quick tests or surface scans of your drives. Many Windows commercial drive diagnostic packages actually use CHKDSK to perform their testing 'under the hood.'
< Previous Page
© 2020 PCSTATS.com

Please respect the time and effort that went into creating each PCSTATS Beginners Guide, do not illegally copy. Thank you.

Next Page >
SEARCH PCSTATS

---

Use the power of Google to search all of PCSTATS and the PCSTATS Forums. Tell us what you think of this new feature - FEEDBACK?