If your drive has become unusable due to data errors and none of the above utilities seem to help, there are a couple of possibilities. One: your drive has mechanical errors, and will shortly only be useful as a fridge magnet , or two: you have a virus or major software error that is causing 'soft' bad sectors to be created. In either case, your first step should be to get as much of your data off the drive as possible. See PCStats Guide to backing up data and data recovery for help on how to do that.
Once you have salvaged your data, you can attempt to 'zero-fill' the drive, by writing 0 values to every single sector of the drive. This can accomplish what normal formats and partitioning can't, since it erases the entire disk - so best to double check that all your data is off the drive before starting this procedure.
If your errors were being caused by software problems, this may well fix the disk, and allow you to reinstall you OS back onto it freshly, or put it back in service for storing data. On the other hand, if your drive has mechanical problems, this will not help.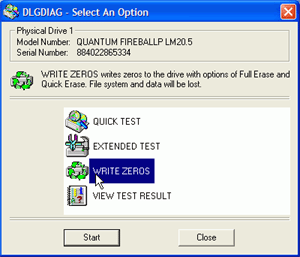 The best way to 'zero-fill' your drive is by using the option within the diagnostic software made by your hard disk manufacturer. Western Digital's Data Lifeguard Diagnostics can also carry out this operation on all drives, though since this is a Windows program you will have to move the afflicted hard drive to another computer if it is a system drive.

In conclusion, be aware of the status of your hard drives. You know better than anyone how your computer system normally operates, so when you start seeing (or hearing) strange errors and inconsistencies, it's time to think about protecting your data. While there is no way for a user to save a mechanically failing hard disk, it is easy to save your precious data if you act fast. Better yet, back it all up now, so you don't have to worry about that curl of smoke that may be emanating from your drive next week. ;-)

We recommend that you back up your essential data frequently, and take a little time each week or month to test your hard disks for errors. The checks listed in this PCstats Beginners Guide take very little time to do, with the exception of a full surface scan, and even that can be scheduled for a non-intrusive time. It's simply not worth the risk to allow your drives to die on you.

Find out about this and many other reviews by joining the Weekly PCstats.com Newsletter today! Catch all of PCSTATS latest hardware reviews right here.