The major hard disk manufacturers like Maxtor and Seagate all offer diagnostic software designed to support their drives. These packages generally meet two specifications: 1) they are quite comprehensive and effective and 2) Tend to be less than easy to use. Let's look at some of these programs:
Maxtor's Powermax (If the link fails, just search for "powermax")
Seagate's Seatools
Western Digital's Data Lifeguard Diagnostics
If you have found a problem with your drive and wish to send it in for warranty service, the major manufacturers will generally insist on you testing your drive with their utility first. Only then will you receive an RMA number to ship the drive with.
Most of these utilities require installation on a floppy disk or CD, then ask you to boot off that medium.
Of these companies, Western Digital's Windows-capable Data Lifeguard Diagnostics is the only program which will willingly scan the drives of other manufacturers. In fact, this program is also extremely easy to use and performs error checking, surface scans and SMART diagnostics. Let's take a look at how to use it:
First, install and run the program.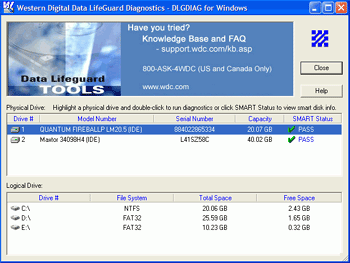 The main screen shows all available physical and logical drives. Double click the physical drive you wish to test.
From here, 'quick test' will do the basic file and folder integrity check, 'extended test' will perform a surface scan of the drive, and 'write zeros' will fully or quickly erase all the data on the disk. Click the 'SMART status' column of the drive you wish to test to see a full SMART diagnostic list.