23. Create a 'permanent' page file
Make the minimum size of the page file the same as the maximum size. This saves the operating system from needing to resize the page file, and does not lose you any extra space, since the 'maximum' size the page file can reach is the amount of hard disk space that is reserved by the OS.
Right click on 'my computer' and select 'properties.'
Select the 'advanced' tab.
Under 'performance' choose the 'settings' button.
Select the 'advanced' tab again and under 'virtual memory' select 'change.'
Highlight the drive containing your page file and make the 'initial size' of the file the same as the 'maximum size' of the file.
24. Optimize your page file size
Windows XP sizes the page file to about 1.5X the amount of actual physical memory by default. While this is good for systems with smaller amounts of memory (under 512MB) it is unlikely that a typical XP desktop system will ever need 1.5 X 512MB or more of virtual memory. As a simplified guideline. If you have less than 512MB of memory, leave the page file at its default size. If you have 512MB or more, change the ratio to 1:1 page file size to physical memory size.
25. Defrag page file with PageDefrag utility
While defragmenting your hard disks is a great idea, and can restore new life to your aging PC, there are certain files that the built in Windows XP defrag utility cannot access, since they are locked or accessed constantly by the operating system. These files include the page file (the area of the hard disk reserved for use as 'virtual' memory for use in addition to the system's physical memory), the event logs, the SAM and security files which handle user authentication and passwords, and several others.
Fortunately, there is a free third party utility available which can completely defragment these important files as well, ensuring that your system is as restored as possible. Sysinternal are the creators of a great many essential freeware programs for all flavours of Windows, and their PageDefrag utility can reorganize these troublesome files upon reboot.
First download and install the utility.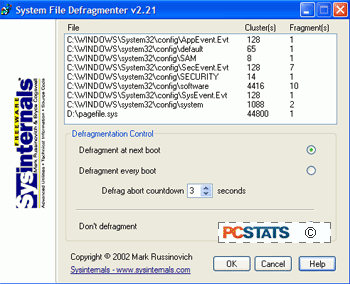 The window displays the list of reserved files, and how fragmented they have become. Choose 'defragment at next boot' then press 'ok.' The next time you restart your computer, PageDefrag will defragment the listed files.