32. Create a RAID configuration on your system to boost hard disk performance
If you are using Windows XP Professional or Windows 2000 and you have more than one hard drive installed, you can create a RAID 0 'stripe' to speed up hard disk performance.
RAID, or Redundant Array of Inexpensive Disks, is a technology that allows for data to be dispersed among two or more hard disks at once, providing additional speed or additional data security or both depending on the configuration. While the more sophisticated forms of RAID are intended for corporate setups, Windows XP Professional includes the most basic RAID configuration, RAID 0, as part of the package.
RAID 0, or 'data striping,' takes two disks or portions of two disks and turns them into one 'logical' drive that the computer can address (like C:). All data written to that drive is split evenly between the two drives. Since both drives can be written to or read from at once, this increases data transfer speed.
A RAID 0 setup requires at least 2 hard drives, each with some unpartitioned space. For complete instructions on creating a RAID 0 setup on your Windows XP system, see PCstats RAID article here. The action begins on page 5!
33. Disable the themes service
If you are not a fan of the appearance of Windows XP, there is an easy way to turn it off and go back to the more sober and traditional Windows style. Simply disable the 'themes' service to restore a classic windows desktop appearance.
To do this, right click on 'my computer' and select 'manage.'
In the computer management windows, expand 'services and applications' and select 'services.'
In the right hand window, highlight the 'themes' service. Right click it and select 'properties.'
In the 'startup type' dropdown box, select 'disabled.'

34. Remove the desktop picture
Your desktop background consumes a fair amount of memory and can slow the loading time of your system. If you are more concerned with performance than looks, remove your picture and go with a blank, coloured background.
Right click on an open area of the desktop and select 'properties.'
Select the 'desktop' tab and in the 'background' window, highlight 'none.' Press 'ok.' v
Think we're just pulling your leg? Nope, every computer in the PCstats labs that gets tested goes through this same step before we run a single benchmark.

35. Change to the NTFS file system
If you are using Windows XP, it's a good idea to convert your system drive to the NTFS file system if you have not already. In addition to providing numerous security and data recovery improvements over FAT32 (the file system of choice for Windows 9x/ME and XP Home) it can also speed up your system slightly.
In fact, the only real reason for sticking with the FAT32 file system for any of your data is if you have more than one operating system on your PC and the other OS's can only see FAT32 partitions (as would be the case with Windows 98, for example, which is incapable of reading NTFS data).
To convert your drives to NTFS:
Right click on 'my computer' and select 'manage'
From the computer management window, expand storage and select 'disk management.'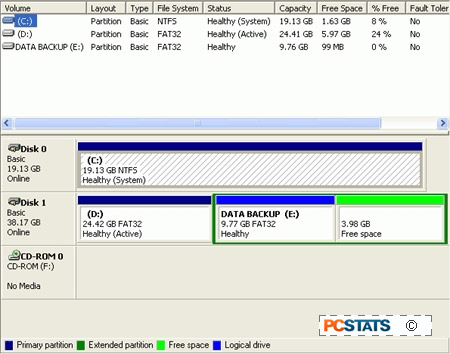 Using the 'file system' column of the upper pane of this window, you can easily check what file system each of your logical drives is using. Make a note of this information.
Now open a command prompt window by going to 'start\run' and typing 'cmd'
To convert a disk to NTFS, type 'convert (drive letter): /fs:ntfs'
So for example, if you were going to convert your C: drive, you would type 'Convert c: /fs:ntfs' at the prompt.