53. Overclocking ATI video cards
Unlike their Nvidia counterparts, ATI does not build an (albeit hidden) overclocking feature into their drivers, so third party software is necessary. For the purposes of this guide we will use the Radlinker utility though there are several other free programs you could also use.
To overclock an ATI video card with Radlinker:
Install the program.
Go to 'start\control panel\display' and select the 'settings' tab then hit 'advanced.
Select the 'Radlinker' tab.
Check the 'enable clock rate change' box. The sliders below are now enabled, allowing you to overclock the memory and processor speed. Click the set button to set the desired rate, then benchmark the card. Watch for visual problems in the benchmarks as you run them, and back off the speed once they are present.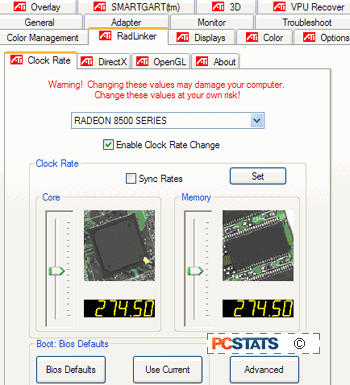 Once you have an acceptable overclock, use the 'use current' button below to apply the changes every time you boot.
54. Overclocking Nvidia Video cards
Nvidia's video driver package has an overclocking component to it, but it is disabled by default and can only be re-enabled by editing the registry manually or with a file.
To activate overclocking in Nvidia cards:
Open REGEDIT
Navigate to 'HKEY_LOCAL_MACHINE\Software\NVIDIA Corporation\Global\NVTweak'
Create a new DWORD value called 'Coolbits' and give it a value of '3'
Reboot.
Known as 'coolbits' due to the name of the registry entry that must be added, this feature creates a 'clock frequency' page in the Nvidia display software.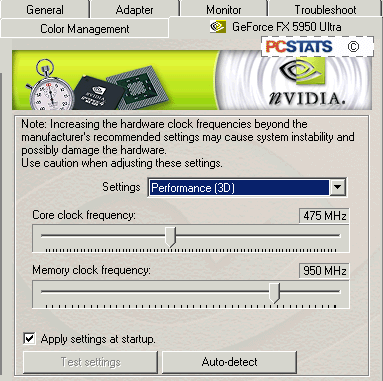 From here you can adjust the GPU and memory clock speeds. Before applying the settings you must allow the drivers to test them. Note, this is not a guarantee of successful overclocking, just a test for basic stability. You can also use the 'auto detect' button, which will attempt to determine the recommended level of overclocking. Use of this feature generally results in slightly conservative settings, but it makes a good reference point. Changes will be applied automatically upon pressing 'ok.'
One thing that can make overclocking complicated on newer Nvidia graphics cards is the fact that the graphics processors have a thermal safeguard and will actually slow themselves down to avoid damage from excessive heat. Overclocking the card of course produces more heat, and eventually you will reach a point where the safeguard kicks in and your benchmark scores will drop perceptibly no matter how much more you overclock the card.
Fair enough, but the trouble is, even if you crank the card back down to more conservative settings once you have reached this point, chances are the safeguard will still be in effect until the card gets a proper chance to cool down a bit (by rebooting, for example.).
This can make benchmarking for best performance more complicated than it needs to be. Best practice then is to increase by increments and make note of when your benchmark scores begin to drop. In this way you get a good idea of the maximum safe level of overclocking for the card.
Once you have found an optimal level, use the 'apply settings at startup' checkbox so you do not have to reenter the settings after a reboot.