AOL and Earthlink Internet applications are also pre-installed, which is convenient if you intend to use either of these services, but potentially quite annoying if you do not. The Earthlink service proved particularly persistent on our machine, in terms of trying to get us to sign up... Fortunately both of these can be banished from the PC by using the add-remove programs option in the WindowsXP Control Panel.
Dell's documentation for the PC is quite good, and very helpful. A poster-size instruction sheet covers setting up the system, while a second smaller one concerns the speakers. The manual contains a wealth of information about the system, and even lists instructions for basic upgrades and maintenance, including adding more memory and installing a floppy or second CD-ROM drive.
The Dell Dimension 2400 is relatively small, neat, and quiet. Very, very quiet actually. In a normal office environment, this PC was inaudible more than a couple of inches away from the case, even with the side panel off. Very nice. The black mini-tower case is completely presentable (and forgettable) in both business and home environments, and lacks only a reset button. There are two front mounted USB2.0 ports and a headphone jack, which are thoughtful additions that keep users from reaching around to the rear of the PC.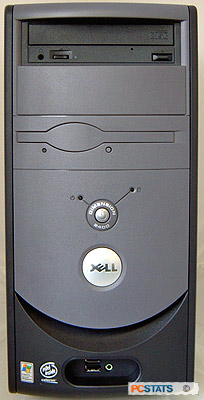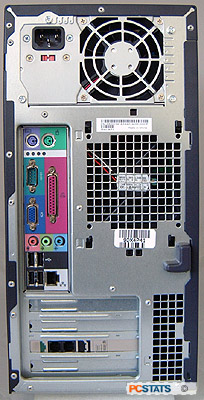 The side panel olf the case is entirely tooless, and easy to remove using a small catch release on the backside. If you need to get at the guts of the PC sometime in the future, you'll learn to appreciate this accessibility. The rear of the Dimension 2400 system has all its ports and jacks colour coded for easy cable connecting, a feature we have come to expect from Dell and other 'big-box' computer companies. There are just three PCI slots available, and one is already taken up with the pre-installed 56K modem. Conveniently, a 10/100 Ethernet network card is integrated onto the board itself.

Colour coded connectors make plugging the right cable into the right spot a breeze for first time users. Here we find a PS/2 jack for keyboard and mouse, four diagnostic LED lights, a serial port, parallel port, analog video connection, microphone and speaker jack, four USB2.0 jacks, and an RJ45 network connection.
The steel case itself was surprisingly heavy for its size, weighing in at about 23lbs, a lot of which can no doubt be attributed to the huge hunk of aluminum serving as a processor heatsink.