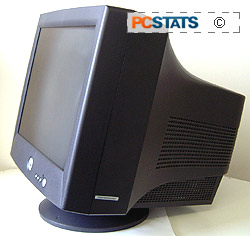 After using the Dell Dimension 2400 for work and recreational purposes, we came away with a few conclusive opinions. First of all, for a budget system, the quality of the individual components is excellent. Let's go through them.
The monitor (19-inch, non-flat screen, 0.24 dot pitch) presented a more than acceptable image, even at its maximum supported resolution (1600X1200 @ 75Hz). We settled on a more reasonable 1280x1024 @ 85Hz as our preferred setting. According to the documentation, the recommended resolution is 1280x1024 @ 75 Hz, but the monitor showed no perceptible issues with our faster refresh setting.
Text in our WordPerfect documents was clear and easy to read, at least to our not-particularly-aged eyes. The M992 is not the best CRT monitor we've seen, but it is entirely fine for everyday use.
The keyboard and mouse were also good. The keyboard is a standard black model with no extra buttons or gadgets, but the typing feel was pleasant. The mouse was a highlight for us (as you've probably noticed by now). Logitech's MX500 optical has great feel and sensitivity, and an abundance of extra programmable buttons. And, it just looks hella-cool!
We were ready to be under whelmed by the sound from the bundled in pair of Altec Lansing stereo speakers that the Dimension 2400 ships with, but they managed to produce pretty good sound. Since the Dimension 2400 will not suffice as a gaming rig, its audio requirements aren't very taxing - but should you want to listen to some MP3's, or internet radio, these little speakers will do the job.
While the speakers don't look particularly impressive, they were capable of perfectly respectable musical playback at low to medium-high volumes without any perceptible distortion. We tried a variety of musical styles, and while the bass was obviously rather weak, it was audibly present, something you can't really say about your average pair of $10 speakers. Musical playback was accomplished though the Jukebox application. The speakers connect to the PC through a single audio cable, and are powered by an small AC-adaptor.