This new accurate diagnostic tool, designed for DirectX9.0, provides you with all the information you need to make informed hardware assessments. Havok Total real-time physics library from Havok - these routines are used to accurately model the movements of objects due to forces, etc. FMOD sound library from Firelight Technologies - these are used for the various sound effects and routines used in the tests. Graphics adapter analysis software from Powerstrip of Entech Taiwan - this is used to correctly determine the speeds of the graphics processing and video memory chips, plus supply additional hardware information. Higher 3DMark03 scores denote better performance.
3DMark03 Benchmark Results
CPU Score
3DMarks
Ranking

Dell Dimension 2400

62
Well... we are somewhat impressed that the Dimension 2400 finished this test at all, given the age and minimal 3D abilities of the Intel Extreme graphics chipset. A midrange (2GHz +) AMD or Intel machine with a more current Nvidia or ATI 3D card can expect to pull down at least 2500 in this test, and usually more depending on the card.
AquaMark3 is a powerful tool to determine reliable information about the gaming performance of a computer system. Because the benchmark extensively utilizes DirectX9, DirectX8 and DirectX7 functionality, it represents the requirements of typical gaming applications in 2003 and 2004.
AquaMark3 Benchmark Results (Overall)
Dell Dimension 2400
Points
Ranking

1024x768 graphics

228

1024x768 processor

334

1024x768 overall

2220
Unimpressive scores in Aquamark3, though the Dimension 2400 did finish the benchmark successfully. Better results could be obtained with a newer PCI 3D card, but then the purpose of the Dimension 2400 was never gaming.
Conclusions on this Home PC
At the Dimension 2400's price point, it's difficult to say anything bad about the system Dell has put together. Everything works as it should, and the included peripherals give excellent performance for the price. For an office workstation, or work-at-home PC, it's a great buy. For those worried about noise pollution from roaring computer fans, rest assured that this is one of the quietest PCs we have had the pleasure not to hear.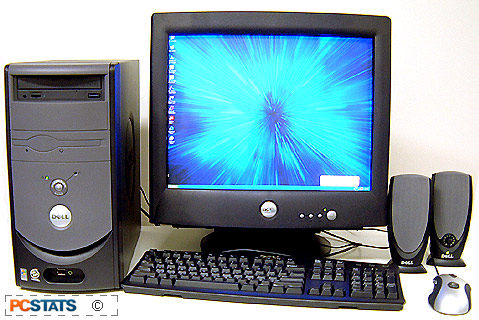 What we do need to stress is that the Dimension 2400 is not a jack-of-all-trades family PC. While it functions well as a word processor, browser and music player, it will not play games well, at least not games the way your average 12-24 year old gamer defines them. Intel's 'Extreme' graphics solution is anything but extreme these days, so unless 'games' for you means solitaire and various board games, invest in something with a little more graphical power, and an AGP slot.
As our benchmarks showed, the Dell, Dimension 2400 system itself lacks muscle, mainly due to the limitations of the Celeron processor and i845GV chipset. If you are looking for a snappy, responsive computer that will tackle your intensive Photoshop or Maya projects with enthusiasm, look elsewhere.
With the Dell Dimension 2400, it comes down to what you need. If you are looking for an affordable office/home work PC, with Internet browsing and music playing abilities, or a computer for your children, you can be sure that you are getting excellent value from the Dimension 2400. Starting at $499CDN, it's hard to find a better deal. The onsite Dell service is a bonus for novice users, as is the excellent instruction manual and help sheets too.
It's unlikely that most small computer stores could put together a system of this quality for an equivalent price, though we would highly recommend you opt for the more powerful Pentium 4 CPU over the sluggish Celeron.
Find out about this and many other reviews by joining the Weekly PCstats.com Newsletter today!