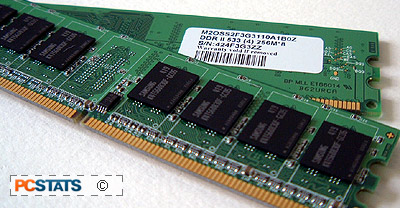 I'm sure you're already aware that Intel has implemented some form of FSB overclocking lock on their i915/i925X based chipsets. Whether it is technically a PLL or voltage lock is not yet certain.
Unfortunately for us, we could not get around this lock, thus we were not able to clock the memory very high at all.
After enabling the 2.66x memory multiplier at 200 MHz FSB, these Samsung DDR2 modules would be running at 266 MHz DDR2, or 533 MHz SDR with 3-3-3 timings. We were able to push the memory all the way up to 216 MHz FSB, or 575 MHz memory with 3-3-3 memory timings without having to raise any voltages. However, any attempts to push further were greeted with a blank screen.
I'm sure it's only a matter of time before the Taiwanese motherboard manufacturers figure out a way around this lock... but until then, there isn't much we can do.

PCStats Test System Specs:
processor:

intel pentium 4 540

clock speed:

16 x 200 mhz = 3.2 ghz
16 x 216 mhz = 3.46 ghz

motherboards:

gigabyte ga-8anxp-d (i925x)

videocard:

gigabyte gv-nx57128d

memory:

2x 256mb crucial ddr2-533

2x 256mb crucial ddr2-533

hard drive:
40gb western digital special ed
cdrom:
nec 52x cd-rom
powersupply:
vantec 400b ion
software setup

windowsxp build 2600
intel inf 6.00.1045
forceware 60.85

workstation benchmarks

sisoft sandra 2004
pcmark2002
pcmark04
3dmark2001se
ut2003
Winstone 2002
Source: Zdnet
Business Winstone 2002 is a system-level, application-based benchmark that measures a PC's overall performance when running today's top-selling Windows-based 32-bit applications on Windows 98, Windows 2000 (SP6 or later), Windows Me, or Windows XP. Business Winstone doesn't mimic what these packages do; it runs real applications through a series of scripted activities and uses the time a PC takes to complete those activities to produce its performance scores.
Business Winstone 2002 Benchmark Results

Memory

Points
Ranking
2x 256MB Crucial DDR2-533 (200/533)
37.6

2x 256MB Samsung DDR2-533 (200/533)

37.5

2x 256MB Samsung DDR2-533 (216/575)

38.7
At stock speeds with similar timings, both the Crucial and Samsung DDR2 memory perform identically. Overclocking the Samsung DDR2 helps to boost Business Winstone performance, very slightly.
SiSoft Sandra 2004
Source: Sandra
Sandra is designed to test the theoretical power of a complete system and individual components. The numbers taken though are again, purely theoretical and may not represent real world performance. Higher numbers represent better performance.
Sisoft Sandra 2004 Benchmark Results
Memory
Integer SSE2:
Float SSE2:
2x 256MB Crucial DDR2-533 (200/533)
5002
5002

2x 256MB Samsung DDR2-533 (200/533)

4974
4973

2x 256MB Samsung DDR2-533 (216/575)

5414
5415
The results from Sandra are also pretty close, but in line with what you can expect from DDR2 memory of this class.