Abstract: The down side for consumers is that the new 240 pin DDR-2 DIMM's are not compatible with existing 184-pin DDR slots, and systems for that matter


85% Rating:

Home > Reviews > Memory > Samsung PC4200
Samsung DDR2-533 PC4200 Memory Review
---
DDR2 RAM allows manufacturers to clock the memory needed by today's cutting edge computer systems much higher than regular DDR, with less heat, and less voltage. So far this applies to just Intel chipsets (i915p, i925x), but speculation is that AMD will be getting into the game later in the year. Talk about the best of both worlds!
Of course, the down side for consumers is that the new 240 pin DDR-2 DIMM's are not compatible with existing 184-pin DDR slots, and systems for that matter. At the moment, if you intend to upgrade your system with DDR2 memory, you will have to upgrade to an Intel i915p or i925x based socket 775 Pentium 4 motherboard.
As Samsung are one of the world's largest memory manufacturers, it's no surprise that it already has its DDR2 modules in the hands of test labs. The two 256MB DDR2 modules we are testing in this review make use of Samsung K4T56083QF-GD5 DDR2 DRAM, which is rated to run at 533 MHz, with timings of 4-4-4 and a voltage of 1.8V. Now, don't let those seemingly slow timings fool you, they're not as sluggish as they might first seem from a DDR standpoint. If you're interested in learning a bit more on how DDR2 works check out PCstats Introduction to DDR-2 memory righthere.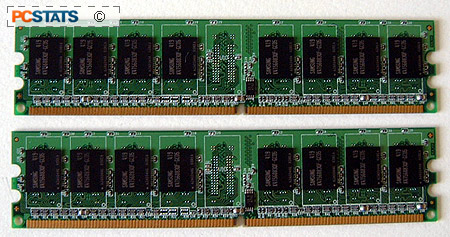 All commercial DDR2 DRAMs (the little black memory chips) are built with the FBGA form factor. DDR memory on the other hand uses the TSOP-II DRAM package, which has visible leads soldered to the PCB.
Since DDR2 draws less voltage, the chips are thus far a lot cooler than some high speed DDR modules.
In the DDR memory world there are a few DRAM modules to look out for, Winbond's BH6/5 and Hynix's D50/43 DRAM being the most notable ones.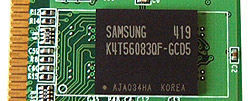 As DDR2 memory is still in its infancy, we haven't had enough exposure to different modules to really say which DRAMs are best for enthusiast purposes, but Samsung certainly has a good reputation of building quality parts.... in fact the company just surpassed the 10 millionth mark in DDR2 DRAM production!
As mentioned earlier, the Samsung DRAM used on these 256MB modules is K4T56083QF-GCD5. In the past, it used to be possible to read the speed of the memory from the last few digits of the code used to mark the chip. This is no longer the case, and so we must look at the tech docs to find out that this memory is rated to run up to 266 MHz DDR2 (533 MHz SDR) while keeping timings of 4-4-4 at 1.8V. During testing we also found that the Samsung memory worked just fine with timings of 3-3-3, at low speeds - good news for those of you who don't overclock!