When I think back to the first round of small form factor PCs to be introduced into the market, I remember having the impression that they were pretty unimpressive, and underpowered. Their small size was great, don't get me wrong, but the hardware inside wasn't exactly 'hot'.
The Shuttle SS50 was a great example of that kind of innovation just slightly ahead of the hardware necessary to make it useful. To this day Shuttle USA still maintain a boycott on PCstats.com because of our straightforward opinions on the AGP-less SS50. Anyhow, as we conclude our look at the Soltek EQ340IM QBiC, it is amazing just how far the Small Form Factor PC has advanced, and continues to do so. This little PC can easily swing with the fastest computers, play the best games, and do much much more.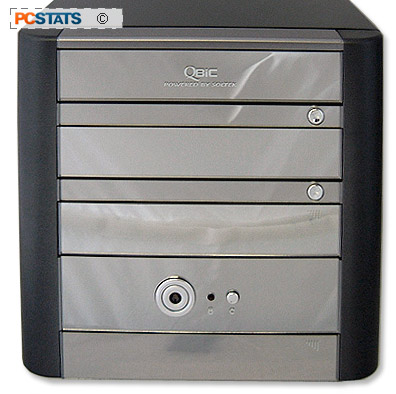 In the heart of the Soltek EQ340IM QBiC rests the Intel i865G chipset, which is really what gives this little machine its power. Standard onboard features include 5.1 audio, onboard analog video and 10/100 LAN, but if that's not enough for you there is one PCI slot, and the all important 8X AGP slot for a videocard upgrade.
We tested the Soltek QBiC with an ATi Radeon 9800 Pro, and even then temperatures remained reasonable inside the case.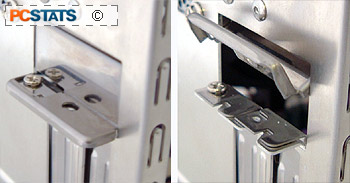 The Soltek EQ340IM QBiC is pretty eye catching with its mirrored front panel, and its designers did a good job at presenting a clean overall outward appearance. All drives are hidden away behind plastic flaps, as are the front panel I/O ports. Plus, the Soltek EQ340IM QBiC offers users two full 5.25" optical drive bays!

We've mentioned the good points already, but all is not perfect. The inside layout of the Soltek QBiC is not as user friendly as we would have liked, and there are a few really sharp edges around the CD-ROM/HDD rack. I know because I cut myself while setting up the system prior to benchmarking. The actual SL-B8E-F motherboard is pretty well designed, but I think Soltek could have done better with the internal aluminum chassis.

All in all though, Soltek did a good job with the EQ340IM QBiC. It's a bit bigger in size than other solutions, but just barely. The unit looks nice and performed quite well in the benchmarks too. From our time with this SFF PC, we only wish Soltek would organize the innards of the QBiC better. As it stands, the Soltek EQ340IM QBiC is a fine little SFF PC, and well worth considering if getting a SFF PC is on your mind.

Find out about this and many other reviews by joining the Weekly PCstats.com Newsletter today!

Related Articles

Here are a few other articles that you might enjoy as well...

2.