The QBiC does not come with its own heatsink, so you'll have to find your own cooling solution irregardless, or use the stock Intel heatsink each processor ships with.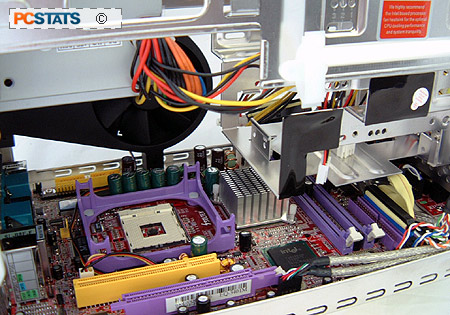 Cable management is also a big concern with SFF PCs, both the internal cables to and from the motherboard and ports, and the IDE and power cables for the devices you'll add in. Overall, I would say that Soltek did a good job in this department. Where required the cables are cleaned up with zip ties, and clamps to hold the cables in place.

Soltek packs a pretty hefty 250W power supply into the QBiC, which should provide your system with ample power. There are a total of four molex and two floppy drive power connectors, plenty for any combination of devices likely to be installed in the QBiC.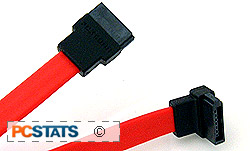 There are some other little things Soltek has engineered into the case to make life easier for everyone. For instance, the serial ATA cable connectors are rotated 90 degrees so the cables can run perpendicular to the motherboard. This saves valuable space and doesn't require you to bend the cables very much when plugging them in. Soltek have also used folded IDE cables which take up less space, a good idea and that will certainly help system airflow in the long term.
The Soltek SL-B8E-F Motherboard
Built around the popular Intel i865G chipset, the Soltek SL-B8E-F flexATX motherboard forms the heart and soul of the QBiC SFF PC, and it's a pretty powerful little motherboard in its own right. It should be no surprise that there is no RAID option here - no one in their right mind would use RAID in a SFF PC for the simple lack of space. The board is pretty well equipped though, boasting 5.1-channel audio, onboard analog video (care of the i865G), Firewire and 10/100 LAN. It would have been nice to see Gigabit LAN support, but that is not included.
Like most SFF systems, users are provided with two expansion slots. The Soltek QBiC has a free PCI and 8X AGP slot, which makes the EQ340IM QBiC perfect for use as a home theatre PC with the right hardware additions.
Unfortunately, while the Soltek EQ340IM QBiC has a slew of overclocking options, we had no luck overclocking this little PC. The maximum FSB it was capable of reaching was 204 MHz. This in spite of the fact that our test processor (a Pentium 4 3.0C) can certainly do more than that. Next, on with the testing and benchmarks!