The Soltek QBiC is a flashy system, quite literally. The front of the PC is a top-to-bottom mirror concealing all the drive bays and media ports. The rest of the case is a nice metallic grey. The QBiC is a little larger than some of the other SFF systems PCstats has looked at, standing in at 21x22x32.5cm in size. This extra space is used well though. The QBiC is the only SFF PC on the market that I know of that allows for two 5.25" optical drives! That makes the Soltek EQ340IM QBiC a pretty versatile barebones system.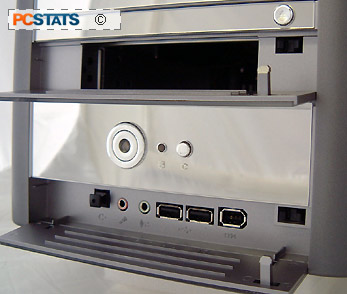 The QBiC's two 5.25" drive bays are at the top of the case, and hide away whatever CDROM or DVDROMs may be installed under flaps made from the same mirrored plastic. The flaps fold down to reveal the drive bay with the press of a button, giving the QBiC a very clean look.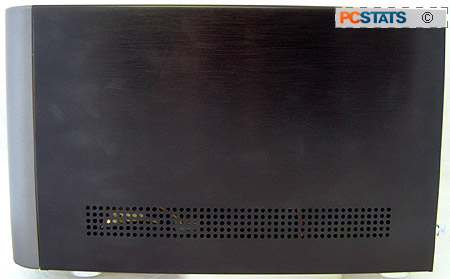 Below the two 5.25" bays is another for 3.5" devices, hidden away behind a reflective plastic cover in the same manner as above. To get access to the 3.5" device, users need only press the cover in to release the lock, and the flap will fold down. The front panel ports are hidden away in the very same manner at the bottom of the case. The ports include an SPDIF optical out, headphone/mic jacks, two USB ports and an IEEE 1394 port so you can easily connect up your multimedia devices.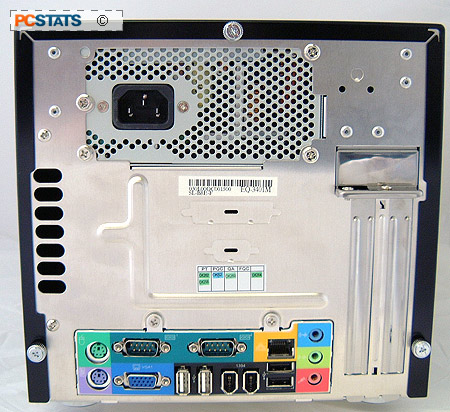 Sitting dead center on the front of the Soltek QBiC are its power and reset buttons. The power button is large and unmistakable, and back lit with an LED. Round back, the rear I/O ports are well labelled, so I'm sure even a novice wouldn't have a problem hooking up the cables correctly.