Inside the Soltek QBiC
In a standard desktop ATX case there is plenty of extra space to go around. In a small form factor chassis, there is a lot less room to work with. With that in mind, it's really critical that manufacturers organize the layout of internal bays, the power supply, and motherboard components in the most efficient manner. Add to that the need for reasonable cooling systems, and accessibility, and you can understand that SFF PCs are graded on a much sharper curve.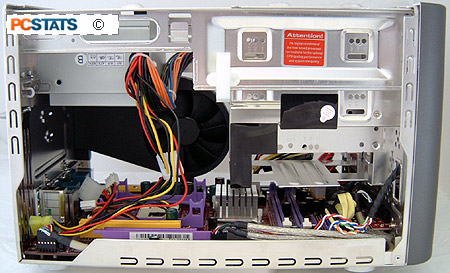 As we undo the thumbscrews to Soltek QBiC, and remove its aluminum cover, it will be to accessibility, and ease of installation that we look. Even if a SFF PC looks cool as ice on the outside, if you can't easily install or upgrade components inside, then what real use is it?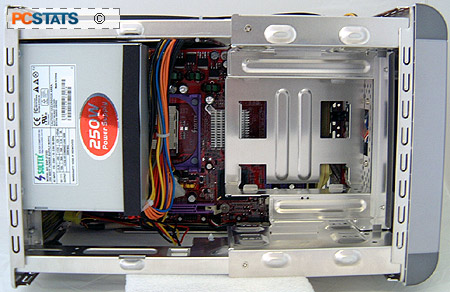 Looking around inside the Soltek QBiC, it's clear that most (but not all!) of the sharp edges are rounded over, which makes installation easy on the hands.
The Soltek QBiC is a slightly larger SFF PCs, but its internal layout is not the most user-friendly. For example, to install memory or system drives users have to remove the CD-ROM/HDD rack entirely.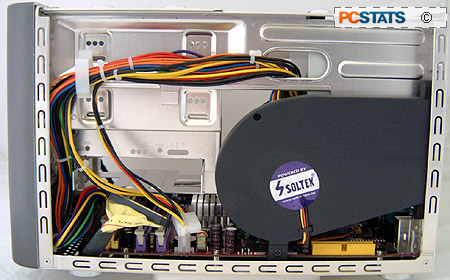 On the plus side, there is a ton of room around the CPU socket so it should be possible to install a nice large after market socket 478 Pentium 4 heatsink.