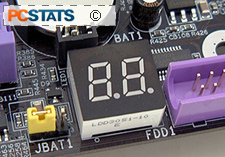 We were pleasantly surprised to see the how well labelled the SL-K890Pro-939 was. For instance there is even a little diagram just above the PCI Express x16 slot indicating which DIMM slots should be used to enable dual channel memory. Excellent details there.
As far as we can tell, Soltek has been equipping its higher-end motherboards with Port 80 diagnostics cards over the last year or so, and that's great news for enthusiasts and tweakers alike. Anyone who has used one will know how useful the little two-digit display is. From memory issues to CPU or video problems, the Port 80 is a real time saver when your system is malfunctioning!
A Brief History of USB
---
USB was developed in 1997 to replace the Serial/Parallel I/O interfaces. The original USB 1.x standard allowed for speeds up to 12Mbps, which is much faster than the 112Kbps Serial ports could provide.

While just fine for digital cameras, Scanners, printers, keyboard/mice and joysticks, USB 1.x was much slower than Apple's competing (and proprietary) IEEE 1394a ('firewire') standard and could not be reasonably used with DV devices or high bandwidth external devices like CD/DVD burners or hard drives. In April of 2000, the USB 2.0 standard was released. It supported speeds of up to 480Mbps, but better yet, the new standard was also backwardly compatible with USB 1.x.

USB's future is bright; today, pretty much any external device (high speed or not) you can buy is USB compatible. Theres little doubt that USB is the de-facto standard for connecting external peripherals to computers.
One thing I've noticed, especially on Intel motherboards, is that many manufacturers are almost completely dropping support for IDE devices. While it is true that Serial ATA is succeeding IDE very quickly, there are still a lot of IDE drives around and it's rather foolish to dump the old standard so quickly.
To accommodate up to six IDE devices, Soltek engineers have integrated a Promise PDC20579 Serial ATA/IDE RAID controller onto the SL-K890Pro-939 motherboard. This is a clever move as the Promise controller combines the best of both worlds: more Serial ATA ports for future HDDs and plenty of IDE ports for current IDE drives.
It's almost an unwritten rule that as computers and components get faster, they also run hotter. We're happy to report that VIA breaks this trend with its K8T890 Northbridge. The heatsink that cools the Northbridge chip is no larger than the ones found on the oldschool i440BX of yesteryear! Let it be known that the VIA K8T890 is not a furnace like the 915/925XE (or even the ICH6) or nForce3/4 chipsets.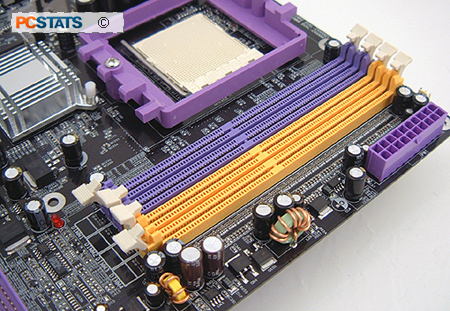 About the only thing I found to complain about with the SL-K890Pro-939 is the location of the floppy drive connector (my personal pet peeve). Blah blah blah, I'm sure you've heard it before but in its location at the bottom of the motherboard, it makes connecting the floppy a lot more difficult for those who use larger cases.