Soltek SL-K890Pro-939 Motherboard Review
---
I was talking to a friend recently about my experiences with Athlon64/SLI systems and he shot back that there's no way he'd jump on the SLI bandwagon. He said that as a gamer on a budget, SLI simply costs too much for him, and doesn't boost framerates enough past the top of the line cards to warrant the higher sticker price.
That got me thinking; SLI is great for benchmarks and for showing off, but it really isn't necessary since a single GeForce 6800 Ultra or Radeon X850XT PE is more than enough for modern games. Considering that SLI motherboards currently sell for a premium over regular PCI Express boards, and that two high-end videocards retail for more than a complete mid-range PC, his point is really backed up by the sheer economics of it all. What do you think?
With fiscal matters in mind, PCStats will be testing out a mainstream Athlon64 (socket 939) motherboard based on the VIA K8T890 chipset, with support for just one PCI Express x16 videocard. If that sounds enticing, bear in mind that the Soltek SL-K890Pro-939 motherboard retails for just $157 CDN ($127 US). That's about $75-100 less than the average SLI board, but still includes a lot of PCI Express goodness!

Soltek SL-K890Pro-939



Includes:

Driver CD, Utilities CD, Quick Installation Guide, Users Manual, Utilities Manual, Two Ultra/133 IDE Cables, One Rounded Ultra/133 IDE Cable, Floppy Cable, Four Serial ATA Cables, Two Molex Y Serial ATA Splitter Cables, RAID Driver Diskette, Rear I/O Shield, USB Bracket
The SL-K890Pro-939 motherboard supports Socket 939 AMD Athlon64/FX processors, and can be packed with up to 4GB of PC3200 DDR RAM. The board supports a single PCI Express x16 videocard as well as three PCI Express x1 devices. Lastly there are two 32-bit PCI slots for your future upgrading needs.
Integrated components include a Gigabit Ethernet adaptor, AC'97 audio codec, firewire and a Promise SATA/IDE RAID controller which adds two extra SATA ports and a pair of IDE connectors to the ones already supported by the VIA K8T890 chipset. A Port 80 Diagnostic display is featured on this motherboard, providing quick analysis of boot-up problems.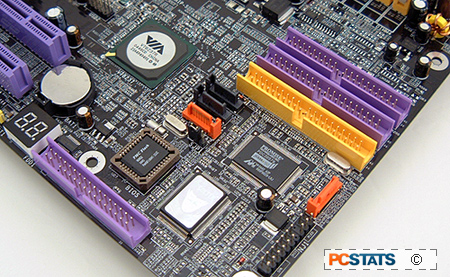 So many companies are slowly phasing out the old legacy ports on the newest motherboards. Pretty soon, jacks like the parallel and serial ports will have gone the way of VESA cards. To us this is a great change since both ports have outlived their usefulness in most desktop environments anyway(okay perhaps not the serial port...).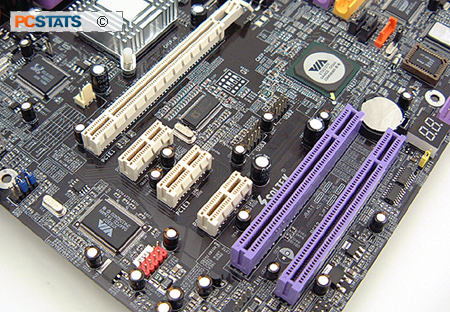 Buyers should be aware of the lack of a parallel port on this motherboard, however. Soltek does keep one serial port on the back should users ever need manage something like a network switch, RPC, or whatnot. If you do require a parallel port, Soltek has placed a header at the bottom of the motherboard just under the last PCI slot. No bracket is included.
In place of the absent legacy ports are a set of SPDIF in/out optical jacks.