Integrated components include a Gigabit Ethernet adaptor, AC'97 audio codec, firewire and a Promise SATA/IDE RAID controller which adds two extra SATA ports and a pair of IDE connectors.


85% Rating:

Home > Reviews > Motherboards > Soltek SL-K890Pro-939
The K8T890 Chipset
VIA's K8T890 chipset is built for the Socket 939 AMD Athlon64/Athlon64 FX processor, and features a 1 GHz HyperTransport connection (16 bits up / downstream) between the CPU and Northbridge. There are a total of 20 PCI Express lanes available in the K8T890 too; 16 lanes are set aside for the graphics card and the four remaining lanes can be split into four PCI Express x1 slots, or one PCI Express x4 slot for extra high bandwidth devices.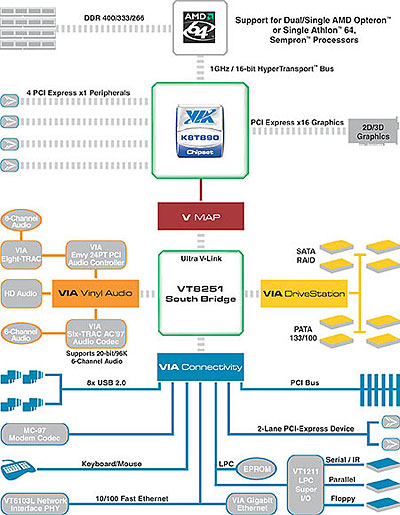 Connecting the K8T890 Northbridge and VT8237 Southbridge is VIA's Ultra V-Link bus which has a total of 1066MB/s bandwidth. The VT8237R includes support for Serial ATA with RAID modes 0, 1 and 0+1 when used in conjunction with a SATAlite controller.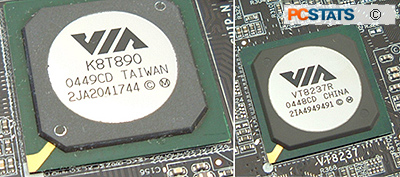 Eight USB 2.0 ports are integrated into the Southbridge as well as support for up to six 32bit PCI slots. There's a direct connection to the Southbridge for 10/100 or Gigabit ethernet controllers which mean they do not have to run through the PCI bus.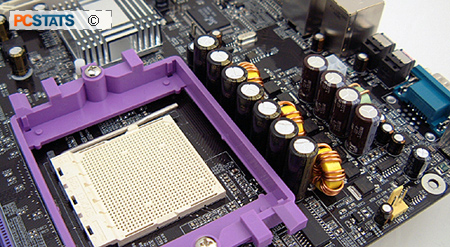 Overclocking the SL-K890Pro-939
We had quite a bit of luck overclocking our first VIA K8T890-based motherboard, the Albatron K8X890 ProII, and we were hoping that our luck would continue with the SL-K890Pro-939.
To begin, the first thing we did was lower the CPU multiplier to 8x and use the 4:3 memory divider; this way neither the processor or memory would limit the maximum motherboard overclock.
Starting at 200 MHz we began to slowly raise the motherboard clock speed. Things actually moved along very well and we didn't have any problems passing the 250 MHz point. It's nice to see that even early VIA K8T890 samples are overclocking nicely.
The maximum motherboard clock speed we achieved was a very respectable 263 MHz. Anything higher and the SL-K890Pro-939 motherboard would have problems POSTing. During testing, even when overclocked, the heatsink that cools the K8T890 was only mildly warm to the touch. It should be pretty clear that if you're an overclocker you don't have to shy away from a VIA K8T890-based motherboards!