Close up Look at the Xpert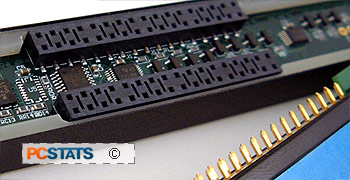 The XMS Xpert modules themselves are considerably larger and heavier than a normal stick of DDR memory, for a couple of reasons.
The additional circuitry required for the display adds to the overall size and weight of the PCB, and Corsair has deliberately made the DIMMs stand taller than usual so that mismatched memory can be used in the same bank.
Since these modules are so tall, you can install other models of DDR memory alongside them without interfering with the display. Nice touch by Corsair, who could have easily made things much tougher on users by not adding this extra couple of centimeters to the Xpert modules.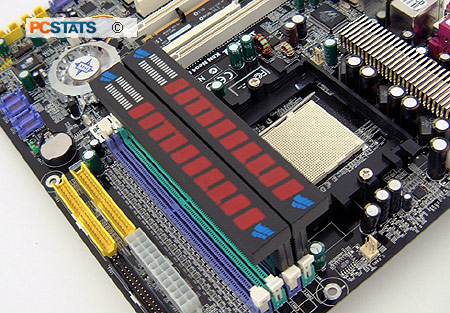 A hefty black aluminium heatspreader protects and cools the memory on both sides. The connection pins for attaching the display are exposed on the top of each module, but are slightly recessed into the PCB to protect them.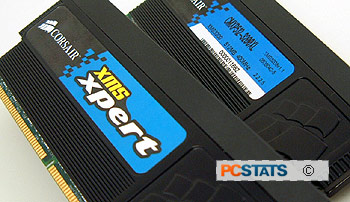 We could see these getting damaged with rough handling, and Corsair cautions that the memory should be properly seated into a motherboard before the displays are attached. The pins do seem quite stiff though, so I wouldn't worry too much about this issue.
What was briefly an issue for us was fitting these modules into a dual-channel slot. When we installed them into an Albatron K8X890 II motherboard that we were testing, they refused to fit together into the slot as you can in the picture below, at right.
After testing them successfully on another motherboard, we returned them to the Albatron and found that they now fit perfectly!? The only explanation we can think of for this issue is that the thermal compound under the heatspreaders needed to contract a bit under the heat of use before they could fit together properly. We doubt this will be a problem, but it's worth mentioning since the heatspreaders on this memory are larger than usual.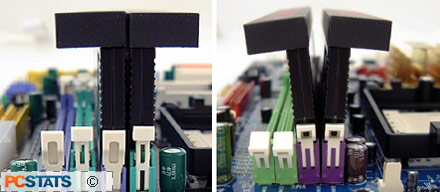 As fitting their 'enthusiast' target, these pair of XMS Xpert TWINXP1024-3200XL DIMMs are rated to run with 2-2-2-5 timings at 400MHz. You'll see how much further we were able to push them in a moment. First let's look at how those digital displays work!