PCSTATS tests DDR memory on two major CPU platforms - the AMD Athlon64 and the Intel Pentium 4 - because RAM behaves differently with each processor architecture. For instance, Intel users tend to run their memory at high speeds with high latency settings, and in general that works quite well for Intel-based computers. It would be detrimental to system performance if you were to run the same DDR memory settings on an AMD Athlon64 system, since latency plays a much larger role in system performance.
Because much of our audience is made up of enthusiasts, PCSTATS also runs overclocking tests so you can get an idea on how far the memory will go.
On both Intel and AMD test PCs, we're only interested in seeing how high we can go with the memory running 1:1, as running with other dividers puts the overclocking bottleneck elsewhere, and not with the system memory. On the Pentium 4 test system we sometimes use higher latencies in our tests, as latencies are not as important. With the AMD Athlon64 test system, the DDR RAM latency must run at 2-2-2-5, or the memory's tightest possible timings, as quick access is more important to the CPU design.
Overclocking for the Xpert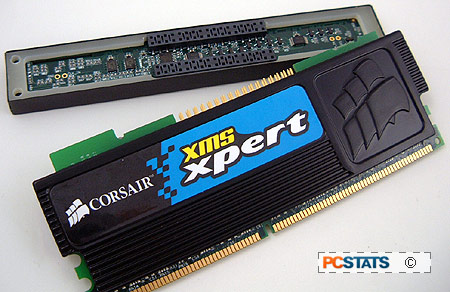 Though the 'auto' voltage on the pair of Corsair XMS Xpert TWINXP1024-3200XL modules was set to 2.75V, we lowered it to a standard 2.60V for testing to start with.
On our AMD test rig, using 2-2-2-5 timings, we managed 215MHz before being forced to raise the memory voltage back to 2.75V. After this we quickly hit a wall again at 217Mhz and were forced to raise the voltage to 2.85V. The highest overclock we could accomplish was 221MHz. This is a decent score, but far from the best we've seen for AMD systems. The memory did maintain 2-2-2-5 timings throughout though.
Our Intel test system hit its first snag at 212MHz, causing us to raise the voltage to 2.75v. Just like the AMD system, we hit our second barrier at 217MHz and again raised the voltage to 2.85V. Loosening the timings, we were able to reach a slightly more impressive 235MHz at 2.5-3-3-6. This memory does not seem to like any voltage increase over 2.85V.
Overall, the XMS Xpert TWINXP1024-3200XL DIMMs were not really that overclocker friendly. As you'll see in our benchmarks, the stock performance of this memory matches up well to the best that other companies can offer, but these modules appear to be built for looks, not overclocking.
Test System Specs

pcstats test system specs:
athlon64 test system
pentium 4 test system
processor:

amd athlon64 3200+

intel pentium 4 2.4c

clock speed:

10 x 200 mhz = 2 ghz
9 x 223 mhz = 2.01 ghz

12 x 200 mhz = 2.4 ghz
12 x 245 mhz = 2.94 ghz

motherboards:

asus k8v dlx, k8t800

abit ic7-max3, i875p

videocard:

asus radeon x800xt pe

asus radeon x800xt pe

memory:

2x 512mb corsair xms xpert twinxp1024-3200xl
2x 512mb corsair twinx3200xl pro
2x 512mb ocz pc3200 platinum limited ed.
2x 512mb corsair twinx1024-4400c25pt


hard drive:
40gb wd special ed
20gb wd hdd
cdrom:
msi x48 cd-rw/dvd-rom
nec 52x cd-rom
powersupply:
vantec stealth 470w
pc power & cooling 510w
software setup

windowsxp build 2600
via 4in1 4.55v
catalyst 4.11

windowsxp build 2600
intel inf 5.02.1012
catalyst 4.11

benchmarks

winstone 2004
sisoft sandra 2004
pcmark04
3dmark2001se
x2: the threat
ut2003