Corsair Xpert TWINXP1024-3200XL DDR Memory Review
---
Computer memory is a rather dull product when you get down to it. It's essential for your system, sure, and good quality memory allows you a lot of headroom if you're an overclocker, but if you've seen one DDR memory module, you've seen them all... Until recently.
Memory manufacturers have been just as swept up in the wave of 'bling-bling' rushing through the home computing world as their counterparts in the video card and computer casing industries. Though current DDR memory has no special cooling needs, fancy metallic heat spreaders became commonplace, followed by LED 'transfer indicators' providing a flashing light show inside your PC. As with any level market, memory manufacturers are constantly looking for ways to make their products stand out from the competition, so this trend is no doubt far from really beginning.
Corsair has long been known for making excellent 'enthusiast grade' computer memory, and now they are leading the market in other aspects too. Previously, Crucial had been the only other company to place LED indicators on its memory, which PCstats reviewed here. Well, Corsair's topped that, and its past LED-illuminated DDR to say the least.

Corsair Xpert TwinxP1024-3200XL Memory

Includes:

Users Manual, Software.
Introducing the Corsair XMS Xpert TWINXP1024-3200XP dual-channel DDR kit. As you can see, it makes quite a first impression. this dual-channel, PC3200 pair of 512MB DDR DIMMs come with a pair of programmable digital displays which can be attached to the top of each module. These LED displays work with the included 'Memory Dashboard' software, allowing your memory to display several monitoring characteristics or even a custom scrolling message!
Yes, it's time to get that case window installed...

The displays incorporate both an eight character scrolling digital readout and an LED scale indicator similar in function to that seen on the Crucial Tracer and Corsair Pro-series memory. Also, as you can see, there's a pair of nifty blue glowing Corsair logos.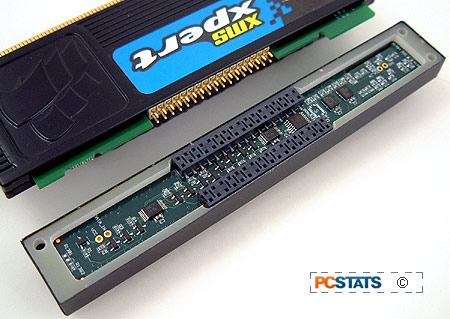 Underneath, each display panel has two identical 34-pin connectors. Each display can only be attached to a single RAM module, so when attaching the pair of displays to modules in side-by-side slots, they spread out to either side like an umbrella.