The ECS RS480-M is based on the ATi CrossFire Xpress 200 chipset, so you know that the onboard video will be a class above the alternatives.


77% Rating:

Home > Reviews > Motherboards > ECS RS480-M
RS480-M Motherboard Highlights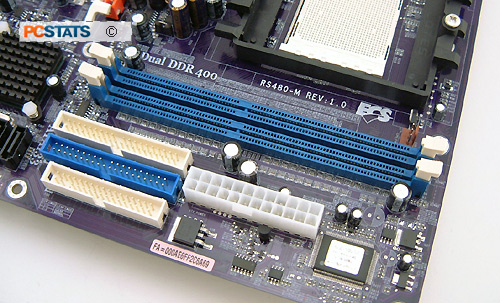 The two blue DDR DIMM slots support a maximum of 2GB of PC3200 non ECC Unbuffered memory. The ECS RS480-M is compatible with both 24 pin power supplies and older 20 pin power supplies as long as its specs are up to snuff. The ATi IXP400 Southbridge supports four IDE devices and one FDD drive.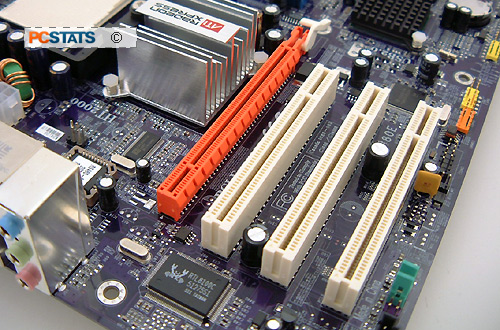 There is an open PCI Express x16 slot (orange) for stand alone videocards. The onboard Radeon Xpress 200 videocard is automatically disabled when another card is inserted into the slot. There are various headers at the edge of the PCB which makes managing cables easier. ECS differentiates between the IEEE 1394 and USB headers by colour.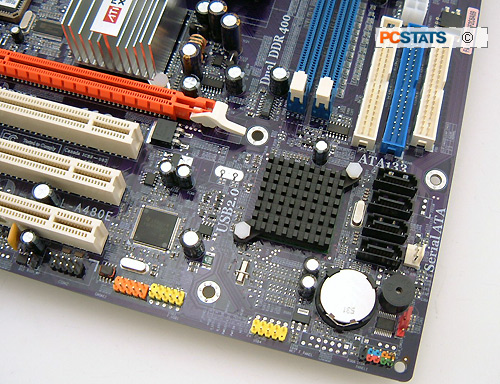 Neither the ATI RS480 Northbridge or ATI IXP400 Southbrige generate a lot of heat, that's why we can get away with passive heatsinks only. The four Serial ATA1 channels run at 1.5GB/s. The Clear CMOS jumper is easily identifiable and positioned in an easy to reach area.
Next up, PCSTATS tries its hand at overclocking the ECS RS480-M motherboard.