ATi has been desperately trying to get a piece of the AMD chipset action, yet it has taken a slightly different approach on the K8 front than nVidia to do so. While much of the press and attention has been on its CrossFire 1600 and 3200 chipsets, it is ATI's integrated CrossFire Xpress 200 that's been capturing the most consumer interest from what we've observed.
The ATi CrossFire Xpress 200 chipset is an entry-level solution. In the grand scheme of things this also happens to be where the vast majority of sales are and until recently, there was not much competition in the segment either. Even though nVIDIA has released its GeForce 6100 series chipsets, ATi still has an excellent shot at grabbing a ton of market share with the Crossfire Xpress solution.
There is a traditional rule of thumb that says computers based on entry level chipsets tend to perform slower than high end gear... this has been thrown out the window with the AMD Athlon64. With its integrated memory controller, the performance differences between different chipsets on the K8 platform have been levelled.
If you're looking for a fully featured micro ATX workstation style motherboard, ECS might have just the board for you. The ECS RS480-M is based on the ATi CrossFire Xpress 200 chipset, so you know that the onboard video will be a class above the alternatives. The motherboard comes with the basics which include a Gigabit network card, 5.1 channel audio controller, assorted Fireware and USB, and four SATA ports.
The ECS RS480-M supports all socket 939 AMD Athlon64 X2/FX processors, its two DDR memory slots will accommodate up to 2GB of DDR 400 memory. Should you want to install a stand alone videocard, there is an open PCI Express x16 slot as well as three PCI slots for other peripherals. All of this goes for a retail price of about $67 CDN ($61 US, £32GBP), not bad at all!

ECS RS480-M Motherboard



Includes:

User's Manual, Ultra/133 IDE Cable, Floppy Cable, Serial ATA Cable, I/O Shield
The ECS RS480-M is full size Micro ATX which means while the board is shorter, it is just as wide. There aren't any large components placed along the edge of the board, so installing it into compact book sized chassis is a snap. The motherboard mounts to the backplate via nine screws, and draws power from a 24-pin ATX and 4-pin auxiliary power connector.
ATI RS480 Chipset and IXP400 Southbridge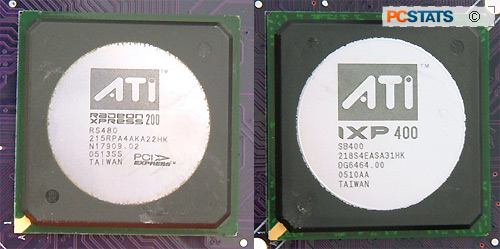 The ATI RS400 (Intel) and RS480 (AMD) chipsets share the same ATI CrossFire Xpress 200 chipset nomenclature... which makes for a bit of confusion.
For the remainder of this review, PCSTATS will be referring to the CrossFire Xpress 200 chipset found on the ECS RS480-M as the 'RS480'.
The ATI RS480 chipset on the ECS RS480-M supports socket 939 AMD Athlon64/FX as well as Sempron processors. Although ATi does not state which form factors specifically (we know socket 939 is supported). The chipset should also work with socket AM2 AMD processors, although ATi has not publicly stated it.
Integrated into the northbridge is a videocard derived from the DirectX 9 ATI Radeon X300 architecture. The processor connects to the ATI RS480 Northbridge via a 1.0 GHz HyperTransport connection that is 16-bits wide both up and downstream.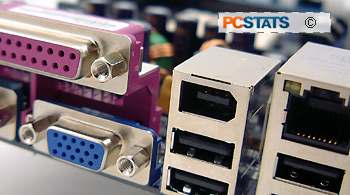 The ATI RS480 supports one PCI Express x16 connector for the videocard as well as four individual PCI Express x1 lanes for peripherals. The integrated videocard supports TV, CRT and DVI outputs, but the last option is not available on the ECS RS480-M. ATI's RS480 chipset connects to the ATI IXP400 Southbridge via a PCI Express x2 connection.
The IXP400 Southbridge supports eight USB 2.0 ports, four Serial ATA generation one HDDs, four Ultra/133 IDE HDDs, a 5.1 channel soundcard and up to five PCI devices. The IXP400 can handle RAID, but only modes 0 and 1 are currently available.
The specifications of the IXP400 seem a bit dated compared to the current competition from nVIDIA and VIA, so hopefully ATi will revamp its Southbridge lineup in the near future. Next up, a quick look at the highlights of this ECS motherboard...