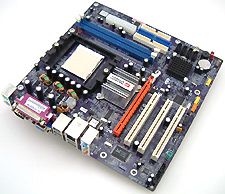 In the computer world good timing is vital. One wrong misstep can easily leave a company in the dust. ATi was late to the chipset game and instead of targeting the same performance markets that nVIDIA is now dominating in, the Canadian company is working to gain a foot hold in the budget and value-oriented segments. With the explosion of demand for low cost computers coming from Brazil, Russia and China this is a very strategic move that will pay out in the long run.
The microATX ECS RS480-M is a pretty well rounded little motherboard. Aside from its onboard video care of the ATI CrossFire Xpress 200 chipset, the board includes the necessities like Gigabit networking, 5.1 channel audio controller, SATA, RAID, PCI Express x16 and PCI expansion ports. In fact it comes with pretty much everything you would need for a workstation or Home Theatre PC.
The only area where ATi's Radeon Xpress 200 chipset lags is in its Serial ATA implementation. The ATI RS480 chipset provides SATA, rather than SATA II.... The companies upcoming SB600 southbridge will address this shortcoming.
As you saw in the benchmark results, the performance of the ECS RS480-M motherboard was quite good in office oriented and content applications most likely to be used in an office of SOHO. In these 2D tests, the motherboard kept pace with much more expensive motherboards. In SYSMark2004, the Office Productivity tests and PCMark05, the board kept up with the likes of the DFI LANPartyUT NF4 SLI-DR Expert and ABIT AN8-32X SLI.
Gaming performance results with the onboard CrossFire Xpress 200 videocard were nothing to get excited about, but that is hardly unexpected. With a PCI Express GeForce 7800GTX videocard installed the ECS RS480-M motherboard and its ATI RS480 chipset are easily able to keep up the pace. If you're looking to build a budget gaming box the ECS RS480-M is an affordable platform to build up from, but this is not its ideal role. If you chose this route, a stand alone PCI Express videocard is a must.
With a retail price of $67 CDN ($61 US, £32GBP), the ECS RS480-M motherboard is an incredibly affordable platform on which to build a socket 939 AMD Athlon 64 or Sempron based computer. As an inexpensive office PC, the ECS RS480-M motherboard is easy on the wallet and covers all the basics like video, networking, audio, IDE and SATA storage. It handles email and office applications satisfactorily with the onboard CrossFire Xpress 200 videocard, but we'd still advise you to install a stand alone videocard - something like the Asus EAX1600XT Silent for example.
Find out about this and many other reviews by joining the Weekly PCstats.com Newsletter today! Catch all of PCSTATS latest reviews right here.
Related Articles
Here are a few other articles that you might enjoy as well...
- ASRock 775XFire-eSATA2/A/ASR i945PL Motherboard Review
- Epox 9U1697 GLI ULi M1697 Motherboard Review
- Asus M2N32-SLI Deluxe nForce 590 SLI AM2 Motherboard Review
- Biostar TForce 6100 AM2 Motherboard Review
- Foxconn 975X7AA-8EKRS2H Intel 975X Motherboard Review
- Gigabyte GA-8N-SLI Quad Royal Motherboard Review
- ASRock 939SLI32-eSATA2 ULi M1695 Motherboard Review