As far as gamers and enthusiast computer users are concerned, nVIDIA has been the company that has spearheaded the latest technologies with respect AMD. Sure processors have gotten faster, but it was nVIDIA who introduced us to dual videocard rendering... even though it doesn't always make even the slightest difference to how a game handles. For that SLI sweet spot, look towards the new game titles.
AMD has definitely benefited from its close relationship with nVIDIA and right now it's paying real dividends. In fact this is one of the few reasons why Intel hasn't completely walked all over AMD, it simply doesn't have a high end platform to match. Although... any platform with an Intel Core 2 Duo offers some pretty stiff competition.
Motherboard manufacturers have been busy pumping out high end motherboards for AMD's Socket AM2 platform and you can find nice models pretty much everywhere. The socket AM2 Gigabyte GA-M59SLI-S5 'S-Series' is certainly a high end board which should get some consideration. With a retail price of $211 CDN ($188 US, £100GBP), this Gigabyte board is moderately priced for a nForce 590 SLI platform, and it has all the bells and whistles you'd expect.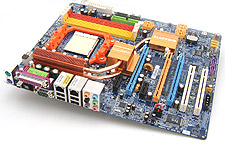 The Gigabyte GA-M59SLI-S5 is a complete solution, and by that I mean aside from the basics you won't have to buy any accessories for your PC. It has on board 7.1 channel High Definition Intel Azalia compatible audio, it has dual Gigabit network cards, it has IEEE 1394a Firewire, it has eight Serial ATA II channels (with RAID and eSATA options), it has three PCI Express x16 videocard slots (and support for SLI), it has a pile of USB2.0 ports and it has only one darn IDE channel. Okay, so if you've got a pile of IDE hard drives you're totally out of luck, but aside from that measure forced on us by the nForce 590 SLI, the board is a real winner.
The Gigabyte GA-M59SLI-S5 performed well, although we did experience a small blip in terms of memory performance in PCMark05 - this may have been a one off, seeing as the GA-M59SLI-S5 had no problems keeping up with the Asus M2-CROSSHAIR or Foxconn C51XEM2AA in 3DMark05/06 or Super Pi.
In terms of overclocking the Gigabyte GA-M59SLI-S5 did pretty well for itself. With plenty of voltage and tweaking options in the BIOS, PCSTATS was able to squeeze a very respectable 312 MHz OC out of it. So in the end I think it's safe to say that if you're looking for a good solid socket AM2 high end, dual videocard gaming system, there are many options out there. The Gigabyte GA-M59SLI-S5 is a great nForce 590 SLI motherboard and should garner a bit of attention. Take a look, nose around, you probably like what you see.
Find out about this and many other reviews by joining the Weekly PCstats.com Newsletter today! Catch all of PCSTATS latest reviews right here.
Related Articles
Here are a few other articles that you might enjoy as well...
- Gigabyte GA-965P-DS3 Intel P965 Express Motherboard Review
- Biostar TForce P965 Deluxe Motherboard Review
- Albatron KM51PV-AM2 Geforce 6150 Motherboard Review
- ASRock AM2V890-VSTA VIA K8T890 Socket AM2 Motherboard Review
- MSI K9N SLI Platinum nForce 570 SLI Motherboard Review