The neatest aspect of the Gigabyte GA-M59SLI-G5 are its three physical PCI Express x16 slots, two of which operate with 16 PCI Express lanes apeice, and the third (in orange) with 8 PCI Express lanes devoted to it.
You might be thinking Gigabyte has devised some kind of 'Tri-mode SLI' feature where three graphics cards can be run in tandem for mind-blisteringly fast gaming results.... well not quite. In reality the two blue PCI Express x16 slots operate to support SLI with a standard SLI bridge card and 32 PCI Express split between the two. The third slot operates at PCI Express x8 speeds, and can currently be used with an additional PCI Express videocard to expand desktop real estate, or very shortly with the anticipated new nVidia physics cards.
Natively the nVIDIA MCP55PXE Southbridge supports 30 PCI Express lanes, 16 of which are dedicated to the second physical PCI Express x16 slot, 6 for PCI Express x1 expansion slots and other devices (such as network cards), and the one additional PCI Express x8 slot which receives 8 lanes. The nForce 590 SLI Northbridge handles the first PCI Express x16 slot and delivers it a full 16 lanes.
Up until now motherboard manufacturers have neglected to include the x8 expansion option, making Gigabyte one of the first to include it on a motherboard.
Officially Gigabyte and nVIDIA has been mum on what that middle PCI Express x8 slot would be used for, but it can easily support a third PCI Express x16 videocard. Of course you couldn't run triple videocard rendering, or so-called 'Tri-mode SLI', but it will make it possible to combine the desktop real estate of up to two additional monitors.
nVidia Physics Cards?
There are a few game titles that support PhysX cards for off loading computational load onto, but all retail cards (ie. AGEIA PhysX) at the moment run through the PCI bus. Moving Physics cards onto the PCI Express bus is the next logical step, owing to the fact that the PCI Express bus has significantly more bandwidth. In any case having a high bandwidth PCI Express x8 expansion slot allows for many different options.
SilentPipe Chipset Cooling System
The nForce 590SLI chipset and CPU Voltage Regulator MOSFET heatpipe heatsinks are designed to be cooled by the CPU fan. It's important to note that if you're using water or phase change cooling, you should still have a fan pointed in the direction of the MOSFET copper cooling fins. If you don't, it's possible that those components will overheat.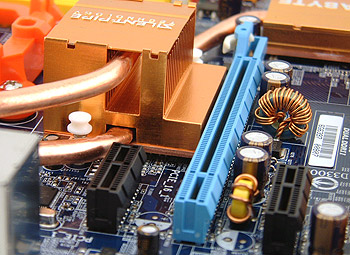 Top of the line computer equipment draw a lot of power these days and Gigabyte equips the GA-M59SLI-S5 'S-series' motherboard with an eight pin ATX12V connector. That seems to be the growing trend these days, so keep this in mind if you're checking out new power supplies. PCSTATS recommends aiming for the models with an eight pin power connector.
The motherboard is compatible with older 20 pin ATX with 4 pin ATX12V connector styles, but that's only if the power supply has more than 30 Amps capacity on the +12V line.
Click-Connect SATA Cables Provided
Okay so this may not be high on your list of 'must-haves' when window shopping new boards, but take it from us, click connect SATA cables are great. PCSTATS spends a lot of time testing boards, and we occasional have problems with SATA cables slipping out of their slots; an easy thing to happen since there isn't much restraining them in position. When SATA cables for the operating system hard drive come loose, computers quickly come to a crashing halt. The SATAII spec addressed the issue, and from it the 'click-connec' SATAII cable was born, yet unfortunately many motherboard manufacturers fail to include this kind of data cable with their products.
Highlights of the Gigabyte GA-M59SLI-G5 are next; it's time to take a closer look at this AM2 motherboard and what it has to offer.