If you're looking for a top of the line gaming system based on the AMD socket AM2 processor, it's almost guaranteed that your motherboard chipset will be the nVidia nForce 590 SLI. The inherent multi-videocard advantages of a SLI capable computer system should help float AMD for the next little while, at least until AMD pushes out a brand new 65nm baby. After all, what good is a powerful processor in a gaming system if it doesn't have the graphics subsystem to back it up?
When it comes to multi videocard rendering, nVIDIA dominates, and Crossfire is like a car crash stuck on slow motion repeat; so the industry is effectively in a one horse race. The ATi/AMD merger will undoubtedly change things, but it's highly unlikely that it will sour AMD's close partnership with nVidia.
Looking at the feature set of nVIDIA's high end nForce 590 SLI chipset is like reading the menu on what a high end workstation system ought to have... except for the uninspiring single IDE channel. Sigh... If you're thinking about getting into the best AM2 has to offer, the Gigabyte GA-M59SLI-G5 motherboard is a pretty sweet starting point. It supports all Socket AM2 processors from the cache-strapped Sempron 3600+ right on through to the Athlon64 X2 5000+ and FX-62 series.
Onboard the GA-M59SLI-G5 'S-Series' motherboard you'll find a 7.1 channel Intel Azalia compatible audio codec, dual Gigabit network connections, a secondary Serial ATA II/RAID controller, IEEE 1394a Firewire, three physical PCI Express x16 graphics card slots, twin BIOS chips for redundancy, and a flurry of other handy hardware devices. The boards' four 240-pin DDR2 RAM slots will support a maximum of 16GB of DDR2-400/533/667/800 memory in unbuffered ECC/non-ECC formats. Expansion is taken care of with two PCI, two PCI Express x1, and three physical PCI Express x16 slots (two x16 and one x8).
With a retail price of $211 CDN ($188 US, £100GBP), this full size ATX motherboard offers a concise set of capabilities built upon the nForce 590 SLI chipset, but without going overboard by over-accessorising with unnecessary extras. Furthermore, the GA-M59SLI-G5 utilizes a fully passive heatpipe-based cooling system for the two nVidia chipsets, so there is no risk of fan failure down the road. Plus, heatpipes and copper cooling fins operate without any noise generation.
Now I know you're eager to know whether or not the Gigabyte GA-M59SLI-S5 motherboards supports Tri-mode SLI with those three PCI Express x16 slots it has... so just hold on for a second as PCSTATS will be discussing the GA-M59SLI-S5's 'S-series' capabilities when it comes to running multiple graphics cards in a moment.

Gigabyte GA-M59SLI-G5 Motherboard




Includes:

User's Manual, Hardware Installation Guide, Driver CD, Ultra/133 IDE Cable, Floppy Cable, Four Serial ATA Cables, ESerial ATA Cable, Molex to Serial ATA Power Cable, SLI Bridge. SLI Retention Bracket, ESATA Bracket, I/O Shield
Around back of the Gigabyte GA-M59SLI-S5 motherboard at the I/O shield are four USB2.0 jacks, the dual Gigabit LAN network cards, audio connections, Firewire jack, optical audio out and usual assortment of legacy parallel and PS/2 connectors. The board supports a total of three USB2.0 headers on the PCB, along with two Firewire and eight SATA2 headers for storage devices.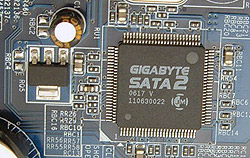 The nVidia nForce 590SLI includes support for just one single IDE channel, so be sure to save this one for your optical devices. With these new class of motherboards, consumers are really being forced to upgrade to entirely SATA hard drives. If there was ever any doubt that IDE hard drives are going the way of the Dodo, this is the proof you've been waiting for.
The Gigabyte GA-M59SLI-G5 motherboard comes bundled with a pile of SATA2 cables, the SLI jumper card, a SLI retention PCI bracket and among other cables and parts most notably an external SATA (eSATA) PCI bracket which accomodates one eSATA device and one SATA device. An eSATA-to-SATA data cable is also provided by the manufacturer.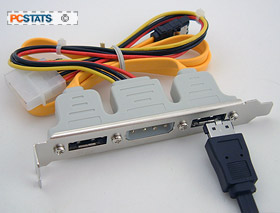 eSATA Device Support
eSATAII (aka external Serial ATA) support is easily the most exciting feature to pop on motherboards of recent. When it comes to external mass storage, bandwidth has always been, and will always be an issue. USB 2.0 (480 Mbps) and IEEE 1394a/b (400/800 Mbps) offer better alternatives than past connections like Serial and Parallel ports but they are still slow compared to dedicated hard drive channels.
With the emergence of Serial ATA, external storage took a huge step forward. Serial ATA is an affordable solution (as opposed to SCSI) that offers speeds at well past USB or IEEE 1394 levels. Serial ATA generation I has up to 1.5Gbps worth of bandwidth and Serial ATA generation II doubles that bandwidth to 3Gbps. Serial ATA makes even IEEE 1394b's 800Mbps bandwidth look paltry by comparison.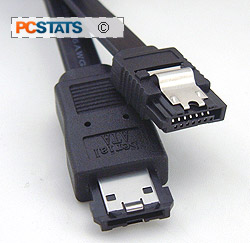 Gigabyte has opted for a special PCI bracket with eSATA and SATAII jacks so that external storage devices or even just a SATA hard drive can be rapidly connected to the PC without cracking the case open. Standard internal Serial ATA cables are sufficient for internal connections, but SATA-IO governing body decided a while back that the external version should be somewhat different, thus creating the eSATA standard. The bracket that accompanies the Gigabyte GA-M59SLI-G5 motherboard supports a eSATA I ('eye' not 'one') connectors, there are also eSATA L connectors so we'd advise you to double check what type of connector end is on any kind of cables you might pick up.
eSATA enclosures for hard drives are widely available, and the great thing is that hard drives connected over this standard are just as fast as internal devices. The connectors are hot swappable, so it makes adding and removing an external hard drive about as complex as clipping in a USB memory key. The beauty of the Gigabyte implementation is that you can also momentarily connect a standard SATA hard drive to the bracket, seeing as a 4-pin molex power connector has been generously provided too.