Abstract: Looking at the feature set of nVIDIA's high end nForce 590 SLI chipset is like reading the menu on what a high end workstation system ought to have... except for the uninspiring single IDE channel.


85% Rating:

Home > Reviews > Motherboards > Gigabyte GA-M59SLI-S5
Gigabyte GA-M59SLI-G5 Motherboard Highlights Gallery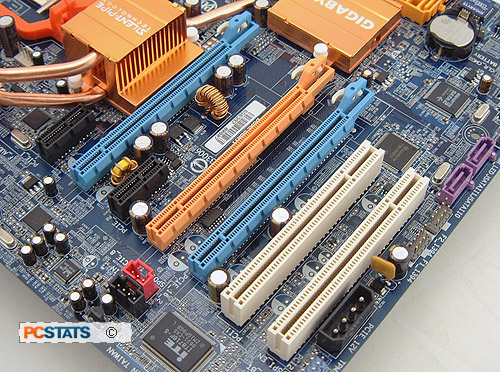 Note that if you decide to run dual videocards in SLI, and your computer starts automatically resetting, that means you didn't connect the auxiliary power connector at the bottom of the motherboard. If you are going to run SLI, the videocards must be placed in the blue PCI Express x16 slots. It's a good idea to connect up the power to the bottom power connector even if you're just running multiple videocards, but not in SLI.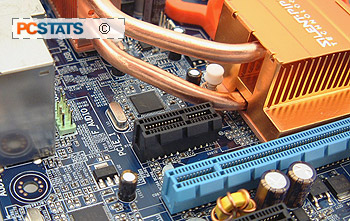 Also note the little PCI Express x1 slot tucked up by the Gigabyte Silent Pipe chipset cooling system.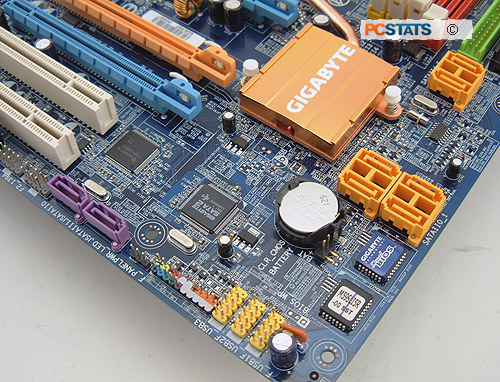 Dual BIOSes should be standard feature on all motherboards. With the Gigabyte GA-M59SLI-S5 you don't have to worry about dead motherboards if you have a bad flash because of power outage. The clear CMOS jumper is right next to the CMOS battery, and both are easy to access even in an installed computer system. Note the eight 'click-connect' SATA II connectors, the orange ones are controlled by the nForce 590SLI and the two purple headers by the 'Gigabyte SATA2' chip.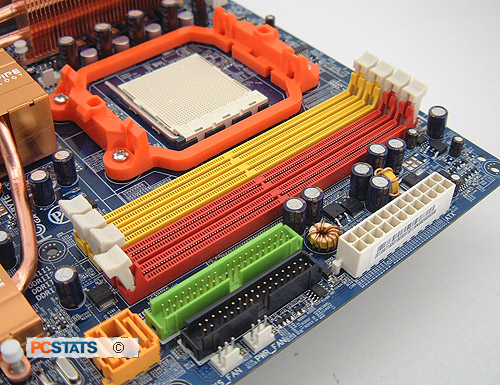 It's nice how Gigabyte places the lone IDE & Floppy connectors alongside the main ATX power connector just to the right of the DIMM slots. There are two extra fan headers which allow the Gigabyte motherboard to keep records on how system and powersupply fans are operating (RPM mainly). The CPU has a 4-pin PWM fan header all to itself. Gigabyte colour coordinates the DDR-2 DIMM slots to make it easier for you to setup dual channel DDR-2 memory pairs.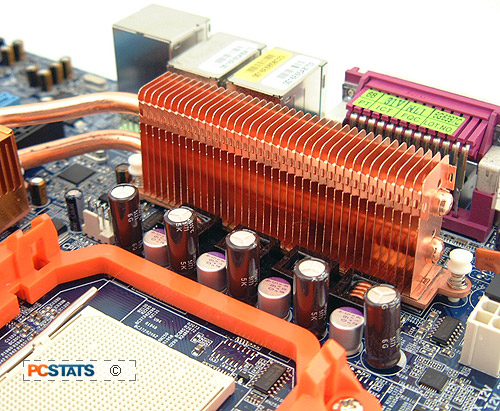 Gigabyte cools the GA-M59SLI-S5 motherboard's chipsets and MOSFETs with a section of copper heatpipes and copper heatsinks. The cooling system is fanless (and thus noiseless), so instead it relies upon the exhaust airflow from the CPU fan to keep temperatures under wraps. The heatsinks are small and low enough so you can install larger third party videocard coolers without worry onto the socket AM2 processor. The copper radiator is fragile so use a bit of caution when installing the CPU heatsink. It's also a good idea to open up your computer to clean the radiator of dust every month or two. Note the 4-pin PWM power connector off to the left.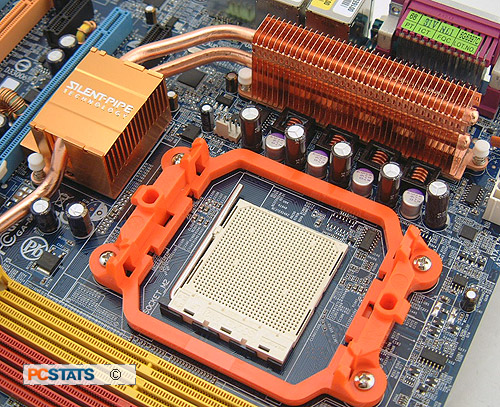 There's a lot of space around the socket AM2 CPU socket so large after market heatsinks can be installed without too much fuss. Please note that if you go with a passive heatsink or CPU thermal solution like watercooling or phase change cooling, you'll still need to blow air across the copper radiator to keep things cool. That can be accomplished with one or two well placed case fans. PCSTATS wouldn't recommend going this route without these fans, because the chipset cooling system is designed to make use of adjacent airflow in order to operate properly.
Next up PCSTATS will be overclocking the Gigabyte GA-M59SLI-S5 motherboard.