Overclocking Results:
Overclocking the nForce 590SLI is always a nice experience, so we're anticipating the Gigabyte GA-M59SLI-S5 will enable us to push the Athlon64 X2 5000+ processor quite far. To begin with, the CPU clock multiplier was first set to 8x and the Corsair Twin2X204-6400C3 memory to run at 533 MHz mode. These settings ensure that neither the processor nor memory will hold the motherboard back from its best possible overclocking results.
The tests began at 200 MHz and clock speed was increased in 5-10 MHz intervals, and from the start it was easy to see that the Gigabyte GA-M59SLI-S5 definitely wanted to be overclocked...
At 245 MHz the GA-M59SLI-S5 needed its chipset voltage to be slightly increased, we bumped it up by 0.2V. Continuing along, at 260 MHz the motherboard started to BSOD while loading WindowsXP. For this, lowering the HyperTransport setting from 1 GHz to 800 MHz fixed the issue.
The Gigabyte GA-M59SLI-S5 easily overclocked past 300 MHz, and in the end settled on a nice round number - a top speed of 312 MHz. Increasing the voltage didn't improve stability any further, nor did lowering the HyperTransport bus.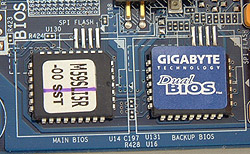 In the end the Gigabyte GA-M59SLI-S5 motherboard overclocked all the way up to 312MHz, and not a tick faster despite our best efforts to the contrary.
Features in the BIOS:
The Gigabyte GA-M59SLI-S5 motherboard comes equipped with two BIOS chips, the idea being that if there is a power failure or some type of other error during a BIOS flash that the secondary BIOS can be called upon to boot the board back up.
With motherboards that have just one BIOS chip, a flash failure can often mean having to ship the board back to the manufacturer for repair. With the Dual BIOS system, you have redundancy built right in so there should never be a circumstance where a bad BIOS flash results in a dead motherboard.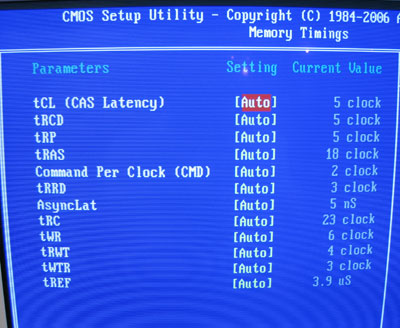 The Gigabyte GA-M59SLI-S5 allows users to change many different memory timing options; there's enough in here to keep a tweaker busy for weeks. ;-)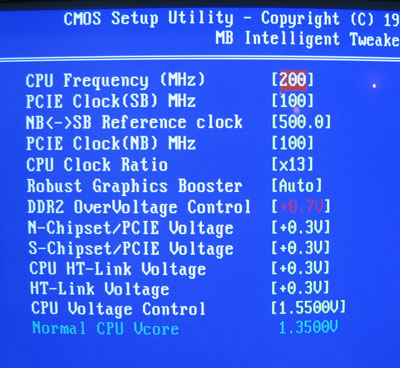 In the 'MB Intelligent Tweaker' panel we find the real magic. The GA-M59SLI-S5 motherboard's clock frequency can be adjusted between 100-500 MHz in 1 MHz intervals. You can also adjust the PCI Express frequency, although that is best left at stock settings. There are clock multiplier options and a pretty flexible set of voltage options for the GA-M59SLI-S5 too. It's nice to see higher voltages available on Gigabyte motherboards these days, although I have to wonder if overclocking really has the draw among consumers it once did. What do you think, is overclocking important to you?
Up next we'll be benchmarking the Gigabyte GA-M59SLI-S5 motherboard through a series of office oriented applications and games to see how it handles everyday work loads.