Biostar has put together a pretty well rounded SFF PC in its iDEQ 250N Mini PC System. It doesn't look like a regular computer or even a SFF PC, rather it looks like... Well perhaps a CD case or some type of receiver.
Based on the nVIDIA GeForce 6100 and nForce 410 chipsets, the Biostar iDEQ 250N Mini PC System can have many faces. Equip it with a socket AM2 AMD Sempron processor and it's a very capable workstation machine, perfect for students or clerical work. Install something like an Athlon64 X2 or FX processor, team it up with a decent PCI Express videocard and you've got yourself a compact PC that can rival most others!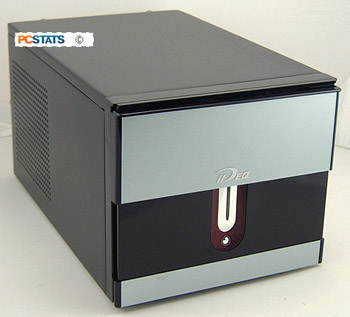 Not everything with the Biostar iDEQ 250N Mini PC System was perfect though. It's a value-oriented barebones small formfactor system, but it would have been nice if Biostar could have equipped the machine with a few more USB ports. As it is, two USB headers sit permanently unused. Also a better job could have been done at rounding edges on the drive rack.
In general, overclocking and SFF PC's do not get along. The Biostar iDEQ 250N Mini PC System did moderately well, overclocking to 242 MHz.
The area where the Biostar iDEQ 250N Mini PC System really excelled in was benchmarks, particularly the office oriented tasks. From SYSMark2004 to the Office Productivity tests, SiSoft Sandra and Super Pi, the little SFF PC kept up with equivalently built full systems on some of the best chipsets on the market. Gaming turned out not to be the GeForce 6100's strong suit... but after slapping in a GeForce 7800GTX videocard the iDEQ 250N Mini PC System was ready to rock.
The Biostar iDEQ 250N Mini PC System overall is a pretty well rounded machine. The Biostar name is not that big in North America, but this little SFF PC was definitely up to the task. If you're on a budget and looking out for a good well rounded small formfactor PC, the Biostar iDEQ 250N Mini PC System and its Geforce 6100 chipset is certainly one to consider. You just might like what you see, and your wallet will to.
Find out about this and many other reviews by joining the Weekly PCstats.com Newsletter today! Catch all of PCSTATS latest reviews right here.
Related Articles
Here are a few other articles that you might enjoy as well...
- Shuttle XPC SN27P2 Small Formfactor Socket AM2 Barebones PC Review
- AOpen miniPC MP915-B Super Multi System Review
- Shuttle XPC SD11G5 Small Formfactor PC Review
- Canada Computers Content Creator X2 Workstation System Review
- Soltek EQ3501-300PW QBiC Mania SFF PC Review