Overclocking Results:
If you plan to do major overclocking, a SFF PC is the wrong platform to use. It's not to say that it won't overclock, it just isn't made to overclock really very high. Before PCSTATS began overclocking he Biostar iDEQ 250N Mini PC System, the Athlon64 X2 5000+ processor multiplier was first lowered to 6x, and the Corsair Twin2X2048-6400C3 memory to run at 533 MHz mode. This way neither the processor nor memory would hold the system back in terms of overclocking.
Starting at 200 MHz, the iDEQ 250N's motherboard frequency was increased in 2-3 MHz steps. Overclocking the system was rather simple, but it quickly hit a roadblock at 242 MHz.
Anything higher than that and the iDEQ 250N system would lock up while booting WindowsXP or just BSOD. Raising the voltages didn't help, nor did turning down the HyperTransport speed. The nVidia Geforce 6100 chipset heatsink was quite warm to the touch, but since it's passively cooled there isn't much that can be done in that regard.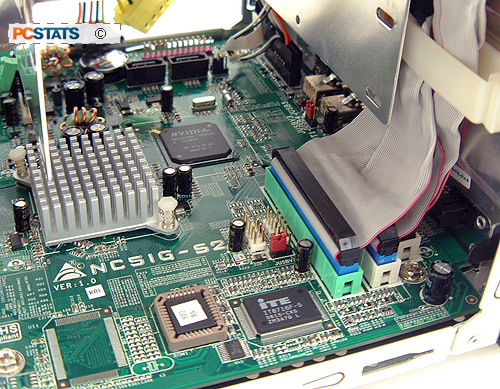 Biostar did a great job at laying things out with the iDEQ 250N and there is a ton of space to work with. The GeForce 6100 Northbridge only requires a small aluminum heatsink on top to keep things cool. Excess wires and cables are organized with cable clips. There are additional USB headers for other devices if you decide to add accessories.
In any case, PCSTATS was able to overclock the Biostar iDEQ 250N Mini PC System from 200MHz to 242 MHz. That is a decent result for a SFF PC, but nothing compared to good enthusiast class motherboard with all the tweaking trimmings!
The Biostar BIOS: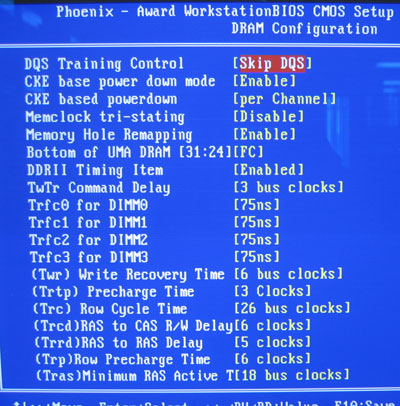 The DRAM options that the Biostar iDEQ 250N Mini PC System has to offer will definitely keep tweakers busy for quite some time.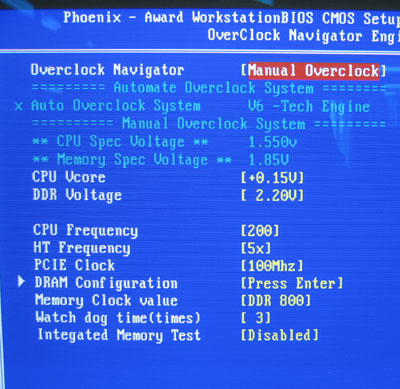 The maximum CPU voltage is 0.15V over stock, while DDR2 voltage can be increased to a maximum of 2.2V. Motherboard frequency goes as high as 400 MHz and can be adjusted 1 MHz at a time. PCI Express frequency is also adjustable although that's recommended to stay stock. You can also select the memory operating speed in this menu..